The last decade has witnessed Linkedin's remarkable growth, and with the platform's success, it was only time before Linkedin marketing became a sought-after skillset. In this context, the exciting thing to note is while social media platforms like Instagram and Facebook were informal forums, Linkedin was anything but casual!
A professional network meant only for connecting with users for work was a one-of-a-kind approach when the platform was first launched. Initially, Linkedin was a professional forum where human resource managers would seek potential candidates and employees would seek job opportunities.
Scroll down and read about how Linkedin transitioned into a full-scale marketing platform!
What Is Linkedin Marketing?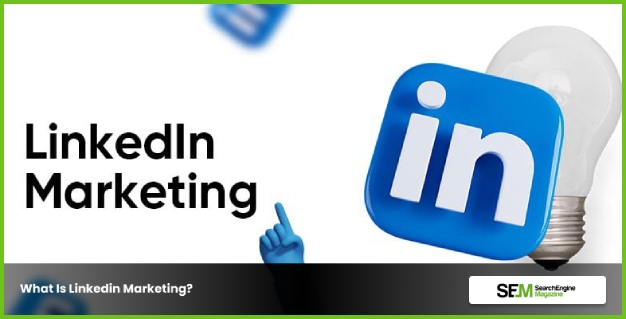 It would be inaccurate to assume that the global pandemic is responsible for the boom Linkedin experienced in the last few years. The platform was already on the rise and would have witnessed a boom on its own – the pandemic only acted as a catalyst behind the platform's recent popularity.
Accompanied by Linkedin marketing solutions, the platform simply transitioned into a full-fledged forum for businesses, predominantly service-based brands, with marketers trying to grasp Linkedin marketing and the features that enable users to market their brands on the platform. Thus, at present, businesses can use Linkedin for branding, lead generation, and ad campaigns.
You may like read: The Best Small Business Tools Online
How To Do LinkedIn Marketing?
Creating a LinkedIn account and setting up a business page is your first step in your LinkedIn marketing journey. Once you have an account and page set up, work towards optimizing it by leaving no box empty in the information segment. All you need to do is be active and consistent with your postings and engagements.
Follow the steps mentioned below and grow your business on LinkedIn.
1. Build Your Network With Relevant Connections
On LinkedIn, you are nothing without your network full of connections. Connect with relevant people from your industry and engage consistently. A good LinkedIn marketing plan always involves your network, which, if used well, can generate leads organically. After some time on the platform, you will connect and engage with potential clients.
Take advantage of LinkedIn's remarkable targeting feature to find the relevant people from your industry. The platform's targeting feature is unique because you can target people based on their location, company size, and even job roles – that sounds impressive, doesn't it?
Read more: Brand Marketing And Social Media Management – Tips
2. Post-Top-Quality Content….And Go Viral
Top-quality on LinkedIn usually involves two concepts. First, your content should either talk about solving a problem and how to execute a task or establish you as a leader in your niche. This is nothing more than basic psychology, and it effectively drives more people towards your content and, in turn, your business.
If you have an excellent marketing LinkedIn background, you will know how easily your content can go viral on the platform. If your post begins to get momentum, the platform simply puts a spotlight on it, and the post gets more attention from users. This is a great way to connect with users in a way your blog or website could never have.
3. A Number's Game
One of the keys to successful LinkedIn marketing is treating the platform and its marketing features like LinkedIn marketing news as an interesting number's game – it's scientific and has nothing to do with creativity. If you treat it as a fun number game once a week, you will soon start reaping the benefits of this successful platform.
For instance, it is easy to target your ideal audience using LinkedIn's extensive filters, and then connecting with these people is even more simple. If you send 20 connection requests, chances are 11-12 will get accepted depending on your popularity on the platform.
Frequently Asked Questions (FAQs):
1. How Do You Use Linkedin Marketing?
LinkedIn is a popular social networking site, and learning how to use LinkedIn for marketing can only prove to be beneficial. Being active and engaging on any social media is mandatory for successful marketing – the same applies to LinkedIn. Also, optimizing your profile always works.
2. What Is Linkedin's Marketing Solution?
LinkedIn marketing offers an impressive solution for its users that enables them to choose specific features on the platform for engaging with their target audience and forging long-lasting relationships in the process. For example, the ads you see on the forum are simply because you fall within the ideal audience set by the brand running the ad.
3. How Do I Master Linkedin For Marketing?
Mastering LinkedIn marketing is different from mastering marketing on other social media platforms. Optimizing your profile and using all features on the forum always help. Additionally, staying active and engaged on this one-of-a-kind social networking site can prove to be ideal.
4. How Do You Market On Linkedin In 2022?
While implementing your LinkedIn marketing strategy in 2022, you need to remember that you cannot repeat the same steps every year. So this year, when you post, be regular but avoid going overboard. Additionally, sharing your content will not be of much use – instead, sharing relevant content of your connections.
5. Is Linkedin Good For Marketing?
Yes, LinkedIn is considered to be an excellent platform for marketing. However, if you do not know how to use Linkedin for business marketing, it is time you work on your skills and join the forum because this social networking medium has been expanding consistently with new users joining every day!
Conclusion
LinkedIn marketing is pretty simple to grasp, and the platform is pretty easy to use. However, many users might criticize LinkedIn for its lack of cost-effectiveness. Compared to other platforms, the amount of money charged by LinkedIn for going premium or running campaigns is relatively high.
However, the trial period provided by LinkedIn for using all its paid features is a fair policy. As a new user, you do not have to pay right away, or if you are short on funds for your business, use the trial period for generating leads and making conversions. Soon, you will be able to afford LinkedIn marketing without any worry.
So what are you waiting for? Visit the site on your browser or install the app on your smartphone and start networking today!
Read Also: