There is no single individual who is excluded from blogging. This is one of the primary reasons that Automattic decided to invent WordPress. Having a blog can assist you to achieve your professional or personal blogging goals. The most important thing is to find high-quality blogging themes. Some good news is that you don't always have to pay for these themes. WordPress has been on the leading end when it comes to the provision of free blogging themes that don't compromise on the quality of your work. In this article, we will be focusing on the best free WordPress themes for blogs. This information should help you to select the free WordPress themes that will meet your needs with a high level of precision.
Best Free WordPress Themes for Blogs:
1. Adler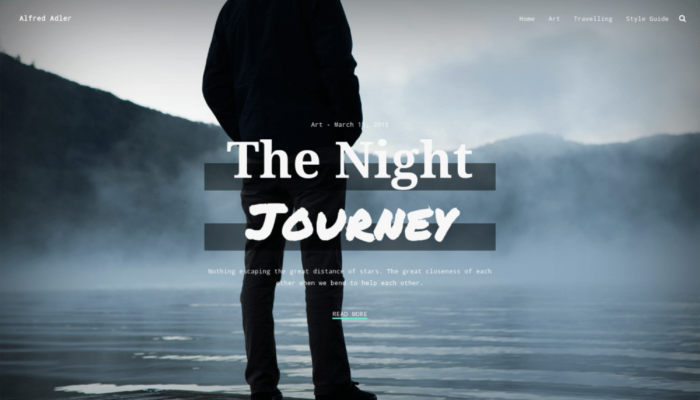 Are you looking for an excellent WordPress theme for creative purposes? If yes, then Adler is a perfect match for your needs. This theme is highly recommended for any person who wants to put an extra flare on his or her blog content. The appearance of this theme resembles a real notebook, use of handwritten fonts, underlines, and marks. It offers full-screen featured images and is photo-friendly. Adler has an elegant and clean design for any creative writer. The top features that you will get in this theme include a flexible design, translation ready, photo-friendly design, full-screen layout, unique typography and a responsive design. These features rank Adler top on the list if best free WordPress themes for blogs.
2. Yuuta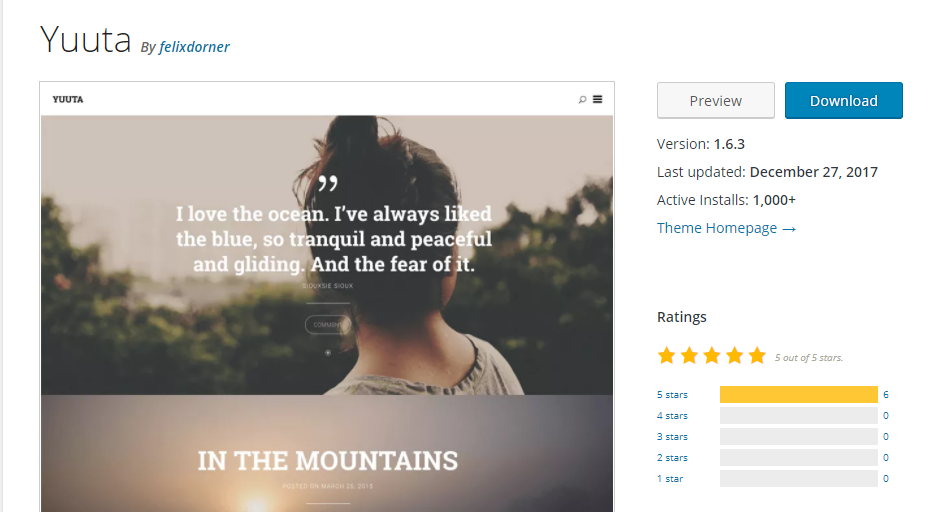 You cannot talk about the best free WordPress blog themes and leave out Yuuta. This theme has a widgetized footer, translation ready, font options, various post formats, lightbox galleries, and responsive design. It is one of those full-screen blogging themes that come with a multipurpose design. Yuuta boasts of having large visuals like featured images, quotes, videos, and ribbons. It has a photo-friendly layout that delivers amazing slideshows. In summary, its design is highly attractive to the eyes. Yuuta is an ideal option for both photoblogs and blogs.
3. Hoffman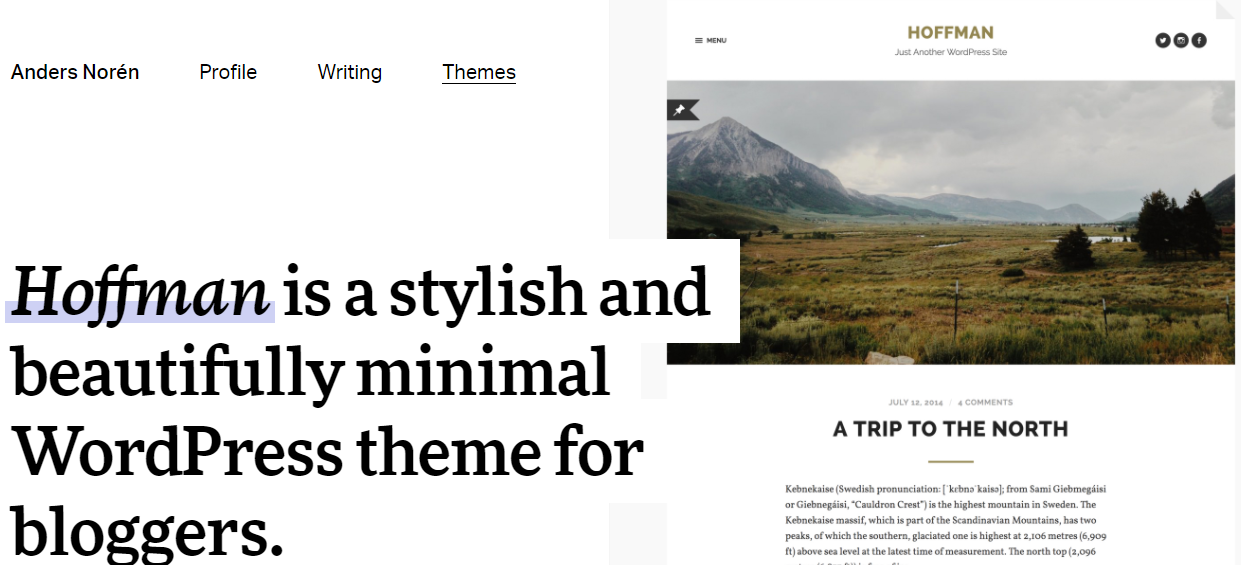 This theme provides an ideal example of excellence when you think about free blog themes from WordPress. Some of the elements that make Hoffman stand out in the market include its elegant design, color scheme, buttons, and typography. This theme can fit any publication site and you will feel as if you are reading an actual book. The theme is integrated with a vintage vibe even though it looks very modern.  The top features of Hoffman include Jetpack integration, slideshow photo galleries, custom colors and widgets, two-page templates, mobile friendly and retina ready, and a flat design.
4. Editor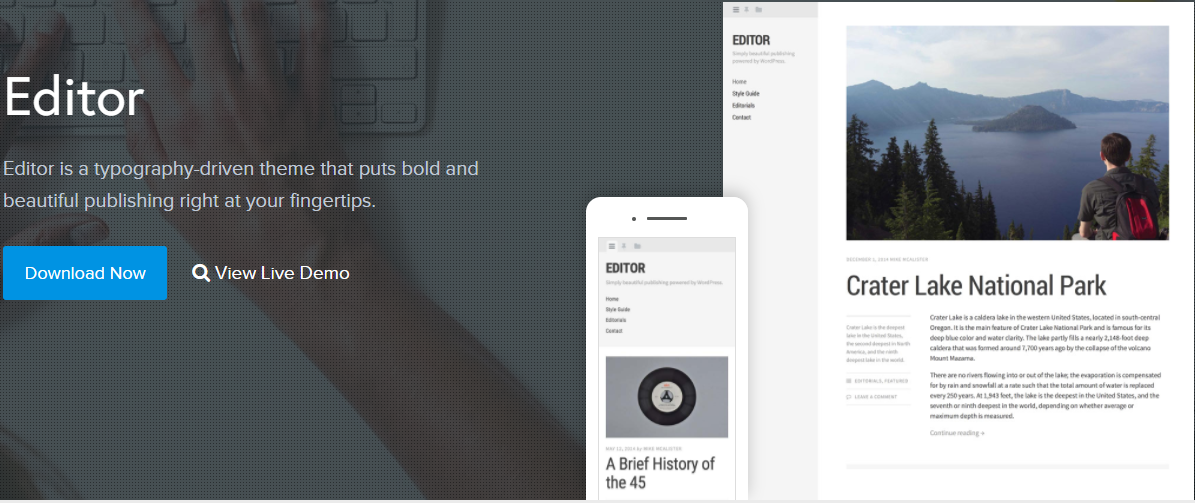 Editor is one of the cleanest full-screen blogging themes. It has an upright menu that also serves as a sidebar. You can be able to switch in between then very quickly. This theme has a versatile sidebar, translation ready, Jetpack compatibility, speed and SEO optimization, elegant typography, and a responsive design. Editor has a multipurpose design whole look resembles an online publication or magazine.
5. Zillah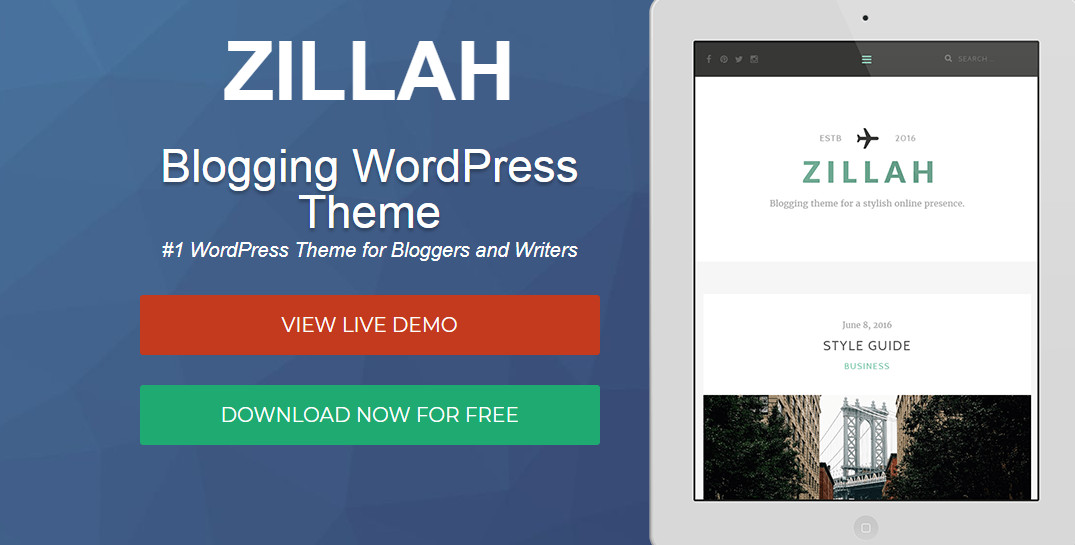 Zillah is one of the best free WordPress blog themes that the market has to offer. The theme comes with big featured images for every post, classic layout, and a clean appearance. Zillah also provides users with an intuitive design and a full-width features slider. The main features you will find in this theme include a social menu, featured slider, translation ready, widgetized footer, live customizer, SEO and speed optimization, and a responsive design. Therefore, you need to think about Zillah when looking for the best free responsive WordPress themes.
6. Snowbird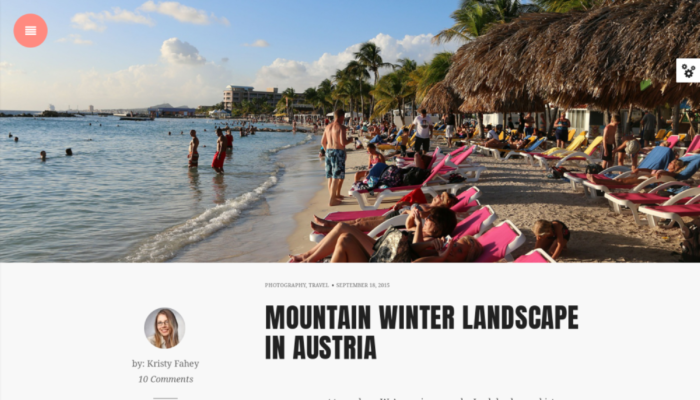 As the name suggests, snowbird is a beautiful, clean and modern theme that is used for personal blogs. You can use this theme to publish stories about hobbies, movies, music, and even travel. It is a photo-friendly theme that fits the needs of photographers with a high level of precision. It is an excellent free blogs themes for writing excellent stuff. Snowbird features a retina ready and responsive design, photo-friendly layouts, unlimited colors, flexible layouts and pages, and translation ready.
7. TheMotion Lite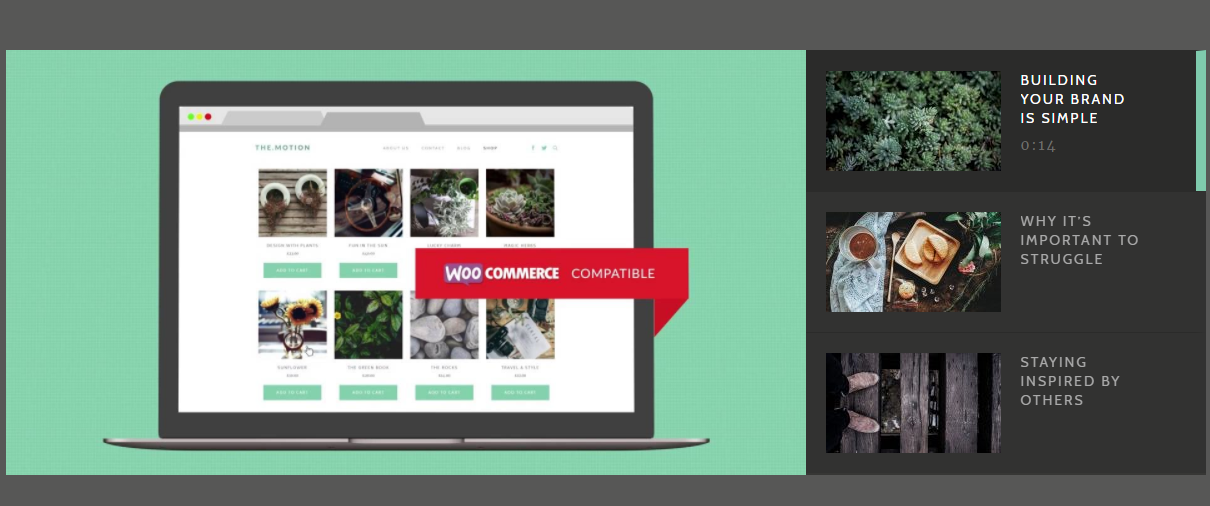 This application is an ideal match for video bloggers who are looking for a classy and minimalist theme. However, TheMotion Lite also works well for the other types of blogs because it has an excellent content presentation. The theme has a modern and elegant appearance that comes with a contact page and nice featured slider. It is one of the user-friendly free blog themes that are specially designed to put the content od the user first. TheMotion has a flexible design, optimized for SEO and speed, video-friendly layout, widgetized footer, custom backgrounds, WooCommerce ready, and is one of the best responsive WordPress themes that the market has to offer.
8. Oblique
This free blogging theme from WordPress is somehow different from the others. It has a dark background, an oblique parallax header, and a simple grid layout. The posts in this theme also have oblique shapes. One thing that will put your posts on oblique in the spotlight is its minimalistic design. The theme has custom backgrounds, widget ready, translation ready, color options, custom slide-out menu, parallax scrolling and a responsive design.
9. Magnus
This is one of the incredible examples of free WordPress blog themes. Its homepage is dominated by elegant animations and images. Every posy on Magnus has a modern design, classy typography, and full-screen featured image. Everything you get in this theme is just good-looking and catchy. Magnus has a photo-friendly layout, translation ready, minimalist design, full-screen images, slide-out menu and a responsive design.
10. Vertex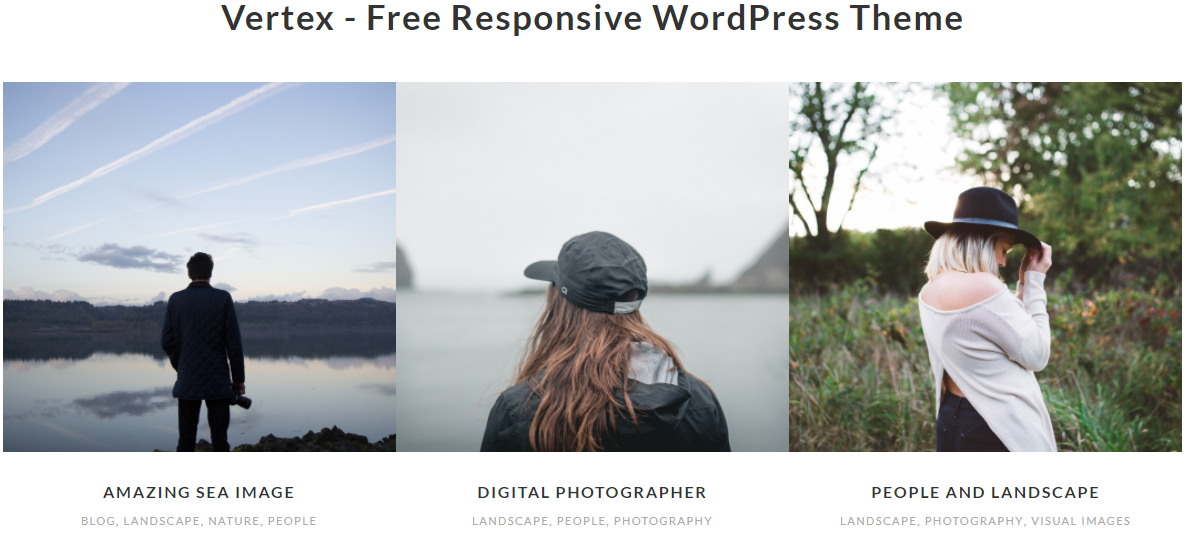 Are you looking for a free WordPress theme that is highly responsive? Then Vertex is the best bet for you. The software can be used to create a perfect portfolio website, blog, business website, plus any other site that you could be thinking about. You can use this theme to publish various formats of content including videos, images, and articles among others. You can download the theme and use it several times. It has a custom color background, hover effects, bold layout, full-featured blog, responsive slider, and highly responsive design. Indeed, this is one of the best WordPress themes for blogs.
Conclusion
After going through this article, you now have a clear understanding of the best free WordPress blog themes. You don't always have to pay to get an excellent theme for your website. The above themes can help you to get very magnificent websites at exclusively no cost.