So you're a business catering to businesses. You have put down either a niche or an exhaustive list of your services. You have a GTM strategy set and are ready to put it into motion, or you've already begun the journey.
Whatever phase your journey may be in, you will most certainly pause to wonder, "Hold on a sec, what now? Where do I go? How do I improve?" And that's where ROI will come in, like a pregnant cloud looming large over your strategies, waiting to condense and pour some good results.
What Is Roi All About?

You might already be aware of this, but here's a refresher. ROI is Return On Investment. It compares how much income you generate and how much you spend to generate it.
For example, if the ROI of a business is 5x, it means that for every $1 they spent, it generated $5 in revenue.
Your indicator as a B2B need not always be the number of clients you onboarded. It could be anything from your net profits and leads to website traffic and client retention – whatever you deem fit.
What's An Ideal B2b Digital Marketing Roi?
Whether you're a digital marketing service or have hired a digital marketing team to take care of your strategies, generally, an ideal B2B ROI is considered to be 5:1. If it's less than 2:1, the ROI is considered to be unprofitable.
So, now that we've seen what ROI in B2B digital marketing is all about, let's take a look at the ways to measure it.
How To Measure Your B2b Digital Marketing Roi
01. lCalculate It With The Formula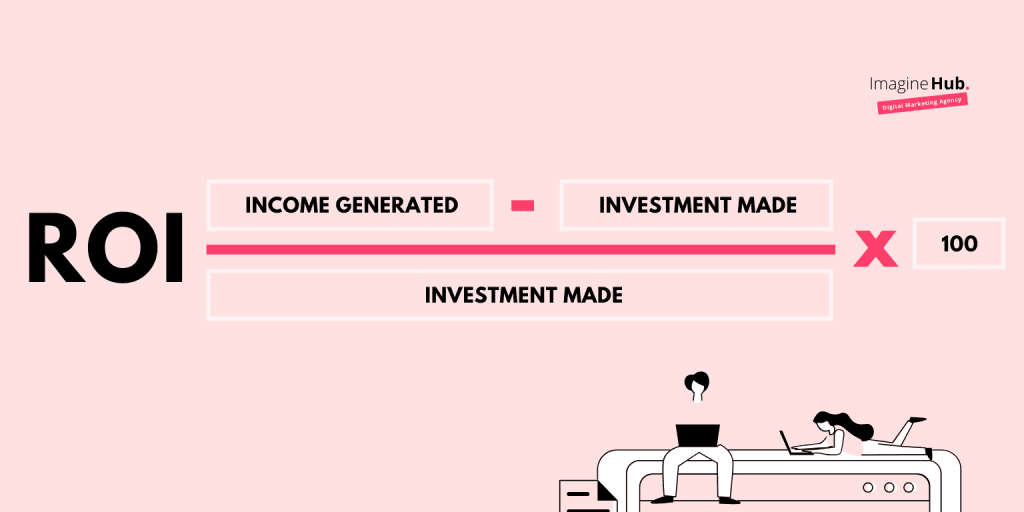 If you have all the data you need, let's get started with the math! The formula is:
So, (REVENUE – INVESTMENT) / INVESTMENT * 100 will give you your ROI percentage.
Start by calculating your revenue first. Revenue is the metric you aim to improve, like leads per month.
These leads could be from various sources, like, newsletter subscribers, phone calls, contact forms, queries, etc.
Now, calculate the number of leads converted for each lead generation source.
E.g., if you received 100 phone calls and 10 of them converted into your clients, your conversion rate is 10%.
Now it's time to figure out how much each lead is worth. If you were running Google Ads with a Call To Action (CTA) to "CALL US", for instance, you could easily access the worth of your leads via Google Analytics. But, even if you weren't, sign up on Google Analytics, as it's one of the most convenient tools!
02. Use Tracking Software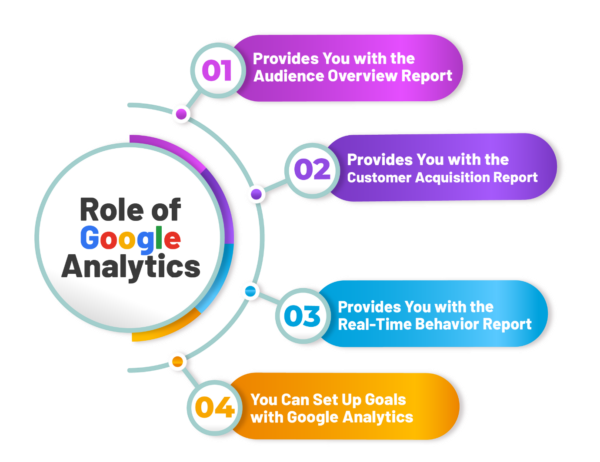 Once again, here's a reference to Google Analytics! All companies, B2B or B2C, need to be able to analyze their online traffic well, and Google Analytics is the best software to do so. You can track a host of things, create custom reports, and schedule emails.
You can also use Google Analytics to create measurable goals for conversions. E.g., taps on GET DIRECTIONS, taps on SUBSCRIBE, number of phone calls/query forms filled up, etc.
Keep in mind that to measure your ROI, focus on goals that are as specific as possible. For instance, "traffic" is a large umbrella and includes organic traffic that can be branded or unbranded, paid traffic, referrals, and direct traffic.Now that we have the basics covered let's dive into the crux of it all!
How To Improve Your B2b Digital Marketing Roi
01. Maximize Inbound Marketing
Inbound marketing is among the most cost-effective (almost free) strategies to improve your ROI. Harping on the "human touch", inbound marketing is highly customer-centric, focusing on building trust and value.
A great place to start is by writing unique blogs/investing in video marketing/giving interviews to prominent publishers to acquire clients.
Post that, engage your clients with high-value offerings like white papers and ebooks. The goal is to genuinely delight your clients and build a chain of excellent reputations. Your clients' testimonials and recommendations will bring you many credibilities and pave the way for new clients.
02. Customize Your Experiences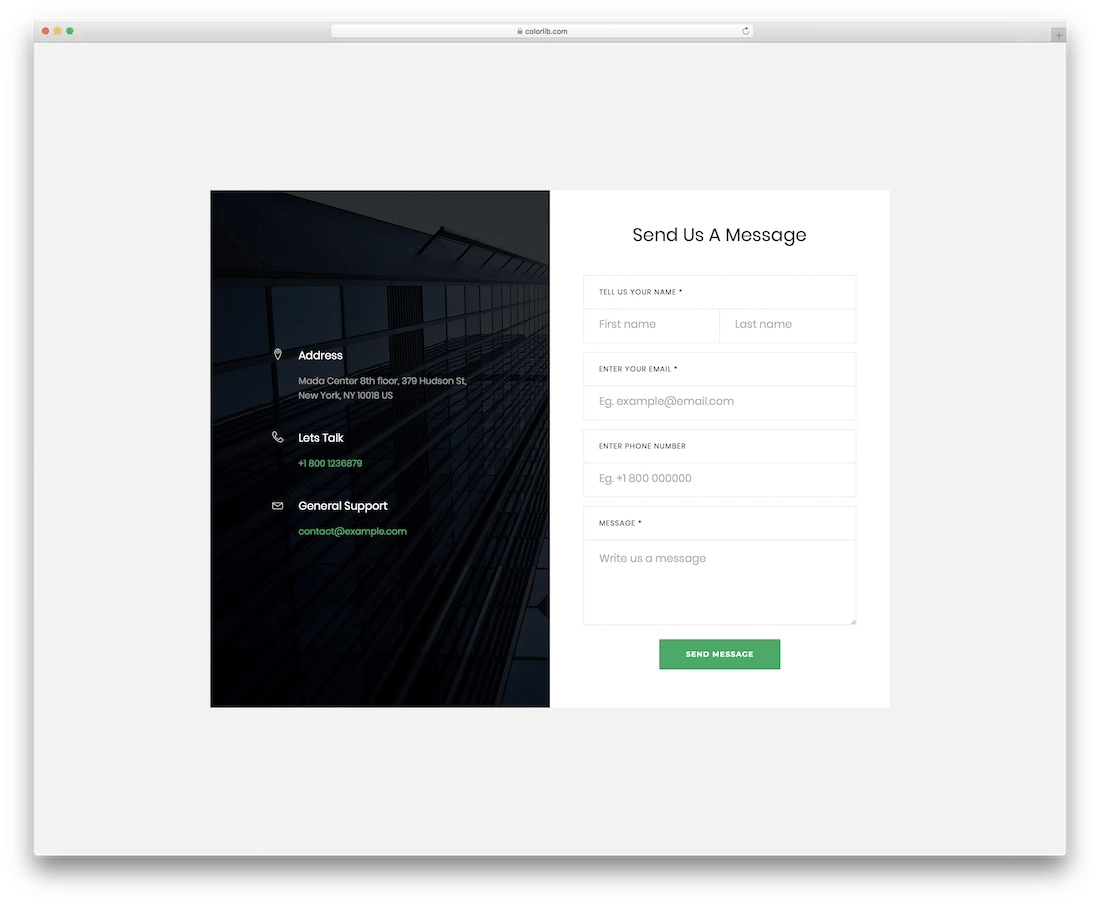 When it comes to B2B, personalization and customization play a considerable role. All your clients will have different requirements and backgrounds, which will need special attention to be catered to. A fundamental way of customizing your customer experience is to make your website easy to navigate. If they're looking for something specific, ensure they can find it quickly rather than browsing your entire website. A query/contact form or a chatbot comes in handy for such instances!
03. Have A Multi-Channel Strategy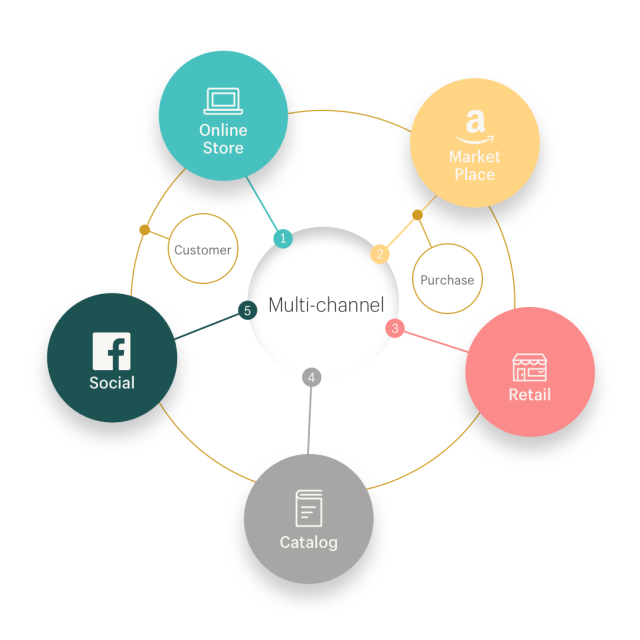 The primary objective of a multi-channel strategy is to be available and seen across as many relevant platforms as possible. The channels/platforms could include social media, Email, Maps (a physical location), Website, Paid Search, Catalog, etc. A multi-channel strategy also helps expand your network. The catch here, however, is to make sure you choose channels that are relevant to your services.
04. Create Relevant Content
Speaking of relevant channels, creating the right content is just as important. Invest in a good content marketing strategy, focus on your content quality, and add value for your audience. An example is offering free demos, educational and informative content, and templates to build credibility.
05. Analyze And Optimize
Lastly, just putting in the effort will not make the cut. You need to take a step back, review and analyze what's working, and then optimize your strategy accordingly. Insights and data will give you proof of the pudding. You can then enhance or restructure your strategy based on them.
ROI is, after all, a definite measure.
With that, we've arrived at the end of this post – hopefully, a renewed beginning of your B2B digital marketing journey!
And if you're looking for a digital marketing team for expert guidance, check out Brainvire. With their tailor-made (yes, customized) business solutions and exemplary expertise, they can take your ROI to the next level!
Additionals