Trying to make the name of your company has gone from difficult to impossible if you don't have the right tools to go big. The way companies work has changed drastically over the years where customers' preferences are improving every day. To cope up with such a crowd, companies are now relying on digital marketing expertise to penetrate the customers just to get the message across.
Traditional methods like allocating leaflets and printing don't have the same reach like it was ten years back. The concept of paper has switched to emails where you can educate your customers about almost anything through email marketing software.
The fact is nearly everyone has an email account. Whether to sign up for social media apps or work and a lot of potentials can be found here if properly penetrated. For that let's see the Best Email Marketing Services for Small Businesses where you can use to enhance your brand identity.
4 Best Email Marketing Services for Small Business (2021):
1. GatorExpress

You don't need to have coding skills or an expert designer to get around with email marketing. GatorExpress is the one-stop solution for all your campaign creation in just a matter of clicks. CommuniGator is amongst the most appreciated company which offers free email marketing services for 14 days (free trial) so that you can understand the perks of it. The firm lets you combine an email campaign within a matter of time without needing any analyst.
It provides an expert-designed template for you to just put in your content to create the campaign without any extra worries and combined with a drag and drop editor, so you can efficiently add content according to the needs of the campaign making it an amazing email marketing software. All the emails are redesigned automatically to be presented on the mobile devices. There's a lot more as the email software has third-party integration with Microsoft Dynamics and Sage.
2. Mapp Digital

If a solution is being searched for small businesses growth, then Mapp Digital needs to be focused on. Creators Teradata and BlueHornet Networks combined resources to provide companies of all sizes including (small businesses) to a bouquet of email marketing tools for online marketers who want to reshape the way their campaigns are made.
Designing campaigns seem like a hasty and difficult task, but Mapp Digital provides a user-friendly dashboard that lets companies create, design and implement efficient campaigns. The primary focus is on emails which are customer oriented.
It offers Creative services, Lead Generation, Multi-Channel Campaign Management and much more through improved ROIs and response rates of the growing businesses they help. Furthermore, it has Mapp Cloud, where all the customer engagement happens over mobile, social and free email marketing tools on a simplistic dashboard to make your businesses email marketing stand out.
3. Campaign Monitor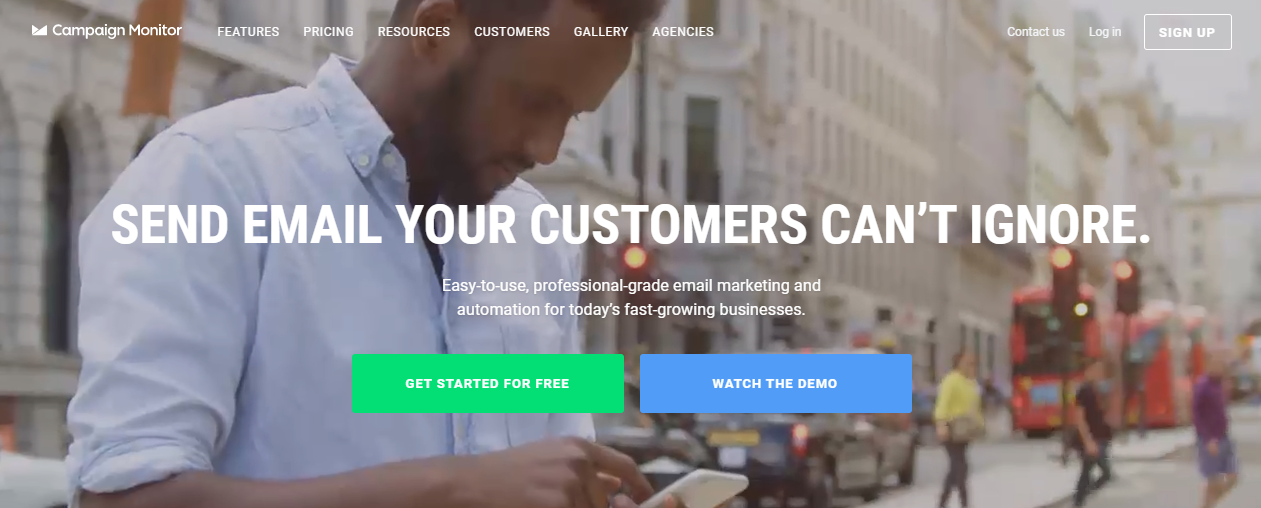 Why waste time in manually integrating with social media platforms to increase your email marketing reach? When you have Campaign Monitor! With third-party integration through WordPress, Google Analytics, Facebook, and Shopify, it lets you create fully functional and personalized messages for customers. All the emails will be tailor-made to suffice each customer's needs on different sizes of the screen. It's a web-based platform where once you designed a campaign, you'll have authority over when to send a list of subscribers manually or you can set a scheduled time for it.
Let's take an example of a trending Boxing Day Sale; you can easily schedule a campaign to go online in the early hours, so customers are informed of specific deals. It's hard for multiple email marketing services to show results of the success of there campaigns, but with Campaign Monitor, it will be a walk in the park to assist you in tracking the reach of your email marketing campaigns through the best email marketing software.
4. MailChimp
If you're not familiar with email marketing software, you must have witnessed MailChimps sponsored ad's in your newsfeed while scrolling on Facebook or surfing on Google.
Created in 2001, it's a leader in the digital marketing world where you can create and schedule email marketing campaigns to numerous customers. A list of templates is ready at your disposal, which can be edited and re-designed by your taste.
You can customize your emails as you want through adding elements like clickable text, logos, and animations without using coding skills.
When it comes to integration, MailChimp is of the best email marketing services for small businesses, especially for retailers. How? By using this email marketing software, you will be able to link the system with services such as Magneto and Shopify to send targeted product ad's. While the majority of the software is free, you will still have to purchase some of the business versions to enhance your email campaigns.
Final Words
If you're a new startup or owning a small business, you must come across multiple issues regarding getting your message across. Competition in the Digital Marketing era is intense where every company is trying to survive by creating a name. Many small businesses enter the digital world but cease to stand out due to their poor response and email marketing gimmicks.
That's where you need to see the Best Email Marketing Services to make you realize where your marketing is going haywire. Go to our blog and see these tools to enhance your businesses approach and visibility.