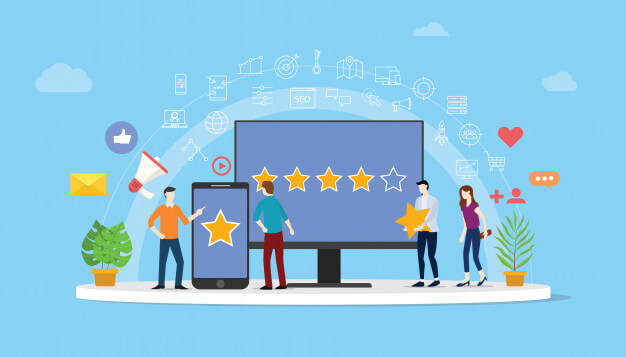 Most brands today have realized the relevance of online reputation management (ORM). Moreover, since most brands want to get perceived favorably and sell their products more, implementing the correct ORM is essential.
A great ORM service from a reputation management agency has the potential to increase the performance of a brand. This performance can be measured in terms of branding, sales, and revenue generation processes. This is why some of the biggest brands in the world consider a strong ORM a great investment.
From financial brands to fashion brands, from health brands to home décor brands, almost all industries and niches are adopting ORM software to benefit their brands in a big way. Everyone wants to grow their businesses and increase sales and revenues. By properly adapting the right ORM partner, you can rest assured that your business will grow in new target audiences, geographical territories, and digital platforms.
The decision to join hands with reputed ORM companies happens later. They first search for the best company and compare the services. It is always better to select an expert service provider. To know more about this, you can get in touch with RMG Digital Solutions.
However, some companies want to build a budget for hiring an expert ORM company. That doesn't mean they will not implement ORM tactics until they join hands with an expert ORM company. Some of the easy ORM tactics to implement without engaging a reputed service provider are:
1. Publish good quality press releases in relevant websites
Today, there are websites where start-ups can publish their press releases. These press releases might contain vital information about their new products, existing products, updated website, plans, and the like. Some press release sites are payable, and some are free. You need to search and compare which one yields the best results.
You also need to take into consideration which platforms target your audiences. This is why good ORM companies take into consideration your target audience, demographics and buying patterns of the audiences.
2. Get featured in online magazines
There are several online magazines in almost every niche. Some magazines welcome authored articles and write-ups from the company spokesperson. It is a smart call to find a few influential online magazines and share your brand story. It will help in generating positive stories.
When your potential customers get to read positive stories about your brand, they form a reasonable opinion about you. It maximizes your brand visibility, customer base, and enhances customer goodwill. This also helps in generating repeat customers as they feel more confident about using the products and services of certain brands that get featured in reputed publications and magazines.
3. Connect and partner with an influencer
The new-age ORM era is all about connecting with the correct influencers and getting them to speak about your brand. You can search for influencers in your niche. For instance, if your brand deals in non-toxic nail color and lip shades connect with make-up and fashion influencer.
Follow their blogs and social media accounts to decide how to pitch about your brand. Choose more than one, and then see how the process goes for you. Social influencers today help new brands. Instagram is one of the best social media platforms for social influencers. An Influencer Marketing strategy, especially on social media is something that most brands should take up.
4. Encourage more customer reviews
Make sure that you ask your customers to share more feedbacks. You can share the same on your website or social media sites. That way, people will know what others have to say about your brand. Make sure not to create fake reviews to attract more customers. New age customers are smart and can detect a fake brand review.
Reviews are necessary to strengthen the confidence levels of a brand. It is also important that you are grateful to people who are posting positive reviews about the brand. It not only shows brands in a humble light but also makes them more relatable to audiences.
5. Leverage the online directories
One of the objectives of ORM is to have a positive brand reputation so that more people recommend your brand to their friends and family. One of the best ways to maximize brand reach is to leverage online directories like Yelp. Take time to fill out the page and furnish all the relevant details. Also, provide relevant pictures so that customers find your brand authentic.
Almost all industries have some formal associations and institutions, which they can be a part of. This helps in building an official outlook of the brand. It also reflects positively on the credibility factor. All countries have basic associations of commerce and industries. By listing your business on such platforms, you will increase reach, visibility and prospects.
Conclusion
You can easily carry out these ORM tactics without the handholding of an ace service provider. Once you have the budget, you can join hands with a smart ORM company and reap more benefits.
Successful ORM management guarantees 360-degree benefits for a brand. It helps in improving-
Brand awareness
Brand reputation and credibility
Sales and Revenue generation
Encourages repeat customers
Makes the brand more relatable and experiential
Opens doors for networking with B2B partners
Improves digital metrics like SEO scores, search rankings, and website traffic
In essence, if your brand is not engaging with ORM in 2019, it stands to miss the above-stated benefits. The digital is becoming a highly competitive domain. Similar brands are vying for the attention of the same consumers. More than products, the brand experience is taking top priority.
If your brand is not in a position to outspend some of the major ones in your industry niche in terms of promotions and paid advertising, ORM can be a way forward. Even though you might not get the jumpstart like paid advertising, you will be able to grow your brand organically over a period.
What are some of the ORM software and companies that you are using now? Tell us some of their major advantages and disadvantages in the comments section below.
Read Also: