If you want to succeed in your business then maximising the chances of a user becoming a pain customer is essential as well as crucial.
To help you out dedicated funnel builders like funnelytics steps in. Funnel building and analysis software helps you move forward in direct control of the potential clients and their sales journey.
By controlling each perspective of contact with the prospect you will personalise the interaction and will be able to Boost your conversion.
Many people have come up with the same question: is funnelytics really user friendly as it promises to be?
In this article we will be talking about what funnelytics is, how to build a sales funnel along with its pricing and alternatives.
What Is Funnelytics?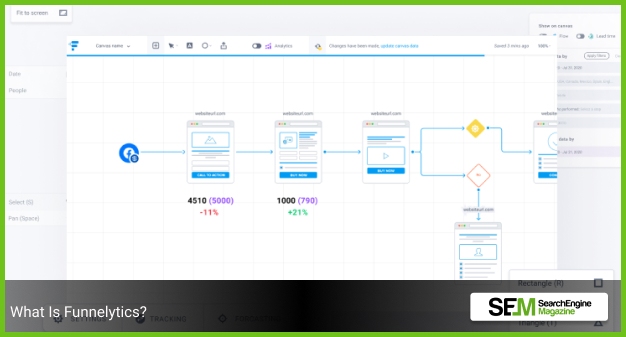 Funnelytics is like any other funnel building tool but completely visual. It helps you plan, optimise and analyse your marketing strategies in such a way that will make your investors understand easily.
The tool itself is designed for marketers. as a business owner it is wearing to handle your marketing hat without being a marketing expert. But what if you are not a funnel marketer will funnelytics help you out?
it will with its features which are given below.
You may like to read: 4 Ways To Make Digital Marketing Cost Effective.
Funnelytics – Features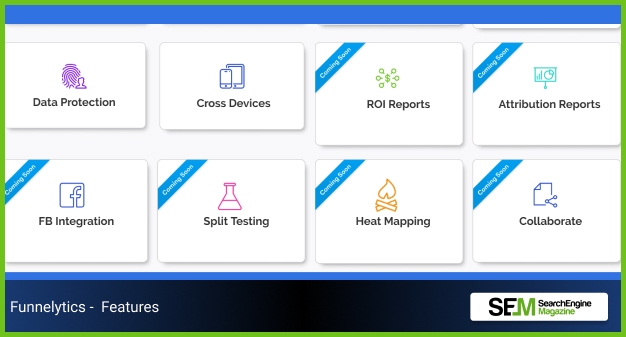 vault of templates.

 strategy mapping and presentation.

drag and drop funnel planning tool.

user tracking and analysis.

external traffic tracking.

ROI reports.

integrations. 

split testing.

heat mapping.

collaboration.
Funelytics Review: How To Build A Sales Funnel
A sales funnel is the step that anyone can take in order to become your customer. People at the top of the sales funnel are always walking by your Store, therefore a certain percentage of sales funnel Walkers decide to walk in and start doing what they are good at.
They have their process to work and the process takes place for every business in one way or the other. For you the sales funnel could exist as.
Retail store.

Website.

Personal consultation.

Sales team.

Email.
Read more: How To Utilize Digital Marketing To Create A Good Brand?
4 Stages Of Sales Funnel And How It Works?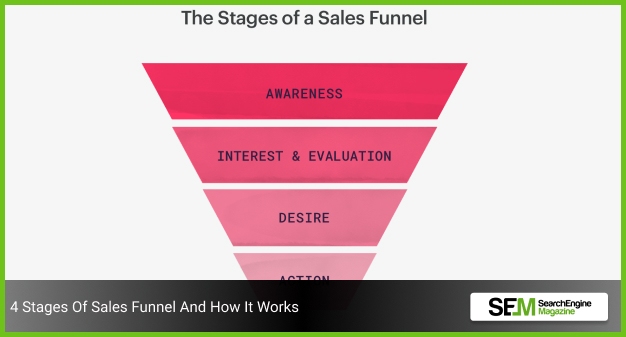 Sales funnel are usually made up of four stages:
Awareness.

Interest.

Decision.

Action.
Let's see how it works.
While there are many words that are used to describe different sales funnel stages, there are four most common terms to explain how each stage works for a consumer when he goes from a visitor to a prospect.
A visitor lands on your website via Google search, or any social link. Therefore that visitor has now become a prospect, he may check your blog post or browse your products. At some point you will have to offer him a chance to sign up for your email list.
If your visitor fields the form she becomes the lead. therefore you can market to the customer outside of your website through email, text ,phone or maybe with all three of them.
You will never lose your lead if you give them special offers, information about new blogs or maybe intrigue them with intriguing messages.
Funnelytics – Alternatives
Here are five funnelytics alternatives that you can try.
1. Adverity
Adverity is known well because it helps marketers in the agencies as well as in brands to handle their data challenges, reduce reporting complexity, and data driven campaigns that get delivered to you with a high ROI.
2. Appsflyer
This alternative is for the app owners, UI managers, mobile marketers, campaign manager and BI managers all across verticals and regions of the digital ecosystem.
3. LeadsRx
Often the primary user of this alternative of fennulytics is a marketing director or a manager who reports and analytics which are produced by leadsRX are consumed by the C level executives.
4. Datorama
Datorama helps the marketers at brands and agencies all around the world to make smarter decisions for their business everyday.
5. Supermetrics
This company alternative is absolutely perfect for Digital Marketing agencies, startups, publishers or any who looks and acts serious about doing digital marketing in house.
You should check: Brand Marketing And Social Media Management – Tips.
Funnelytics – Pricing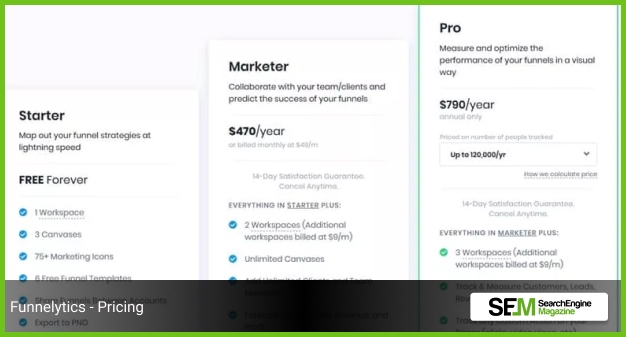 Funnelytics generally has three pricing plans for you to start mapping and tracking your funnels.
The pricing tren include:
1. Starter plan
This plan is free forever and helps you map out the funnels at lightning speed. You get access to a workspace which has three canvases and some other basic features.
2. Marketing plan
This plan will help you to map out your funnels and collaborate with your team as well as clients. You will be able to predict the success of your funnels. Therefore it will cost you 49 Dollars per month or 470 Dollars per year.
3. Pro plan
This plan is considered to be the highest tier plan on funnelytics. It will allow you to map your funnel as well as collaborate with your clients and teams along with track and measure. It will cost you $790 per year for 120,000 visitors per year.
Wrapping It All Up
There you go with funnelytics review how to build the sales funnel, pricing, alternatives and more. We have covered the article as much as possible with all the information that goes with the topic perfectly.
Leave a comment in the comment section and let us know of your doubts so that we can come up with the relevant answers.
Read Also: