If you are aware and have used the Ubersuggest chrome extension for your keyword research and SEO analysis, then there is good news for you people. Ubersuggest chrome extension has a new update that makes your research and SEO analysis simple and easy. But before using it better to know the ubersuggest price and traffic generating strategies for ranking your page and driving more traffics to your business pages.
It will make your research and analysis pretty easy inside your browser extension. There are tons of tools for SEO reports but when we use them, we get lost in them. It will take some time for the experts to fix it, but for now, Ubersuggest chrome extension is the best SEO trafficking tool.
What Is The Ubersuggest Chrome Extension?
Ubersuggest is an entirely free chrome extension. This extension is also a potent SEO tool. It will show you all the detailed results of your searched keywords. For example, when creating any content for your marketing and branding, you often research the keywords. Then start to make the contents. You will get all the insightful related data with these extensions.
This extension works like other SEO tools. Ubersuggest is working by analyzing all the related keywords. Only you have to type the keywords inside the search bar. And clicks on the enter button. Ubersuggest is showing you all the domain data which are related to this search bar. Now you know what the Ubersuggest chrome extensions are. Let's see what the Ubersuggest price structures are.
In this article, we will be giving you an overview of the Ubersuggest chrome extension app and some important changes that have come with the updated version. The most fun part about using Ubersuggest chrome extension is that it is absolutely free to use. But they also have paid offers and when you will see the ubersuggest price structures you will understand how affordable the structures are.
Without much delay, let's get on with the Ubersuggest chrome extension.
You may like to read: Seo Analytics: What Not To Do To Avoid Getting Penalized.
Ubersuggest Chrome Extension: How To Get More SEO Traffic Using It?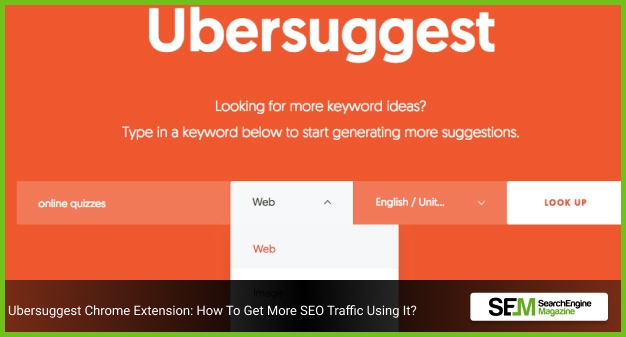 Using ubersuggest chrome extension makes you get more SEO traffic even if you have never done any SEO analysis and research. Here are the ways through which you can get more SEO traffic using Ubersuggest chrome extension.
Step 1 – Build A Project
You will have to go to the Ubersuggest dashboard and register there for a free account. So for the first users, there are no such facts related to the Ubersuggest price.

Once done making the Ubersuggest SEO analyzer account, click on the 'add your first project'.

The next step includes adding the URL and the name of your website.

After selecting your website, you have to pick the main country where your business is situated.

Then type the name of the country in bold. If you happen to be a local businessman, just type the name of your city and click 'next'.

If you do business in several countries or maybe cities then you will have to type all the names one at a time and select them individually.

After all these details, your site will be connected to Google Search Console. Now, you will see a list of keywords that can be automatically tracked, on the left-hand side.

You can track others as well by typing all the keywords and finally hit 'enter'.

After you hit the 'next' button you will be directed straight to your dashboard, wait a minute for it to load.

Click on the 'tracked keywords' box and load your website profile.
The coolest part of the process is that you will get a report where you will be able to see all the rankings on both of your mobile and desktop devices. Note the rankings may differ in both devices, as Google has a mobile index.
If you take a look at your rankings on Google's mobile index, then just tap on the 'mobile icon'.
Step 2 – Fixing SEO Errors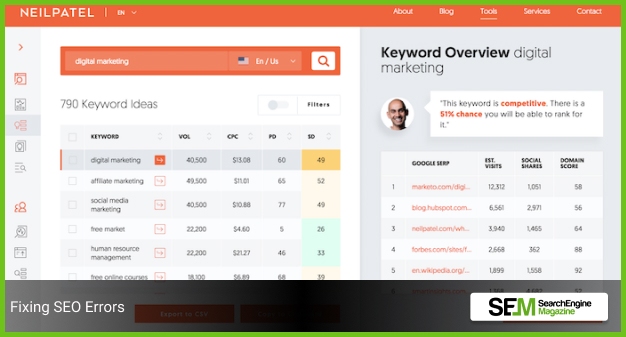 Once you have gone through step one, you have created your first project. Now it is time to improve your rankings.
Let's start off with the 'site audit' report. You will see this button in the navigation.

Once you get there you will have to type the URL and click the 'search' button.

It will take a few seconds to run the report.
The goal should be to optimize the site for as high an SEO score as possible. The aim should be more than 90. Always remember the more you add pages to your site, it gets bigger, therefore reaching 90 or more is not that easy.
You will have to fix all your critical errors, then your warnings. You should also take some time to fix the recommendations as well. So click the 'critical errors' button if you have any, or else the 'warnings'. The report will look similar but the errors are going to be different when compared to your friend.
Go through the first issue you have on your page, as the report sorts the issue based on impact. The first ones are to be fixed first because they can easily impact your traffic.
Read more: 5 Proven Ways To Get More Clients For Your SEO Agency.
Step 3 – Competitor Analysis
Since you are working with this Ubersuggest chrome extension, therefore you should be aware of the phrase "content is king".
Contents need to be of high quality and people should not break the grasp they have on your content. That is how your content gets ranked. If you keep blabbing about the things that no one has interests in, then your content has nowhere to stand. You must write for the readers, not for yourself.
Go to the 'traffic analyzer overview' report. You will have to copy-paste your competitor's URL and there will be a report. In this report, you will learn about the estimated monthly visitors that your competitor is getting, such as all the keywords that are ranking on the first page, major keywords, and traffic.
Go to the top pages' and click ' view the pages that drive traffic to this domain'.

Immediately you will be on the 'top pages' report.

Here you will be given pages that your competitor has on their page, the top pages are the most popular ones. As you go down, the pages will appear with less traffic.

Go to 'view all' under 'estimated visits' for the top page on your competition site.

Here you will find the keyword that ranks the page with the Ubersuggest keyword tool.

Click 'view all' to the links that have been linked to your competition. Save the list by copying them.
You can also check: 5 Useful Advice For Creating A Solid SEO Strategy.
Step 4 – Blog Post Ideas
You can generate ideas of blogs by using ubersuggest chrome extension. Follow these steps to generate one.
Go to the 'content ideas' report. Click the 'content ideas' button, which is the navigation bar.

Type the keyword that your competition is ranking with as well as you want to run with the same.

Hit 'search'. You will see a list of blog posts with social shares, estimated visits and backlinks.

When you will find a good content topic, click 'view all' to see the keywords.
Step 5 – Promote
I know it would have been better if SEO could do a simple fix on errors, but it is not that easy. You will have to create a list of sites to link to your competition.
To promote you will have to email all the sites that are linked with your competition and ask them to link you. If someone else is linking to your competition site, then they do not have any issue linking sites in your space. There is a good chance to link you as well.
Keep browsing around their sites, to find their email, and once you get it send them a message by telling them why your content is better and will provide value to the readers. You can also check the backlinks.
In addition, I would like to give the Ubersuggest price structure for people who are thinking of buying it.
For individuals, you will have to pay 12 dollars per month. For business purposes, you will have to spend 20 dollars a month. If you are going to use the ubersuggest chrome extension for any enterprise then the cost will be 40 dollars per month.
Ubersuggest Pricing Structure
Ubersuggest has three types of different pricing structures. The first one is the free trial, single-time license, and subscription.
Here you are getting the whole Ubersuggest price structure for every individual plan.
1. Individual Plans $12/Month
For entrepreneurs Or small business handlers
Features:
You can manage one to three websites.

Step by step training courses.

Templates and worksheets.

Tracked keywords at least 100 per project.

Mobile rank tracking facility.

Crawling frequency.

Historical data research.

20,000 top keyword research.

Lost links findings for the last 30 days.

Keyword suggestions for 20,000.

100 projects per day.
2. Business Plans $20/Month
For Small and medium business handlers
Features:
You can manage four to seven websites.

All the features of the individual plans.

You can handle seven projects per day

Tracked keywords 150 per day.

Keyword suggestions 50,000.

Data exporting facility for 5000 per report.

5,000 new content ideas.
3. Enterprise Agency Plans $40/Month
For larger business agencies
Features:
You can manage more than eight sites.

All the features of the individuals and business plans.

900 reports per day.

100,000 keyword suggestions per day.

10,000 content ideas.

10,000 rows of data exporting facility.

10,000 backlink rows.

15 projects per day.
Frequently Asked Questions About Ubersuggest Price
Q1: Is Ubersuggest A Free Or Paid Tool?
Ubersuggest features are similar to the Buzzumo. And this tool is free. But it also had paid options. The best features are that you will get all the content creation ideas and keyword research ideas. This tool is an outstanding feature for content search and other content creation facilities. For the blog positioning, searching on the backlinks and other competitors' keyword analysis is the prime target. And you will get the desired result by using this tool.
Q2: Which Is Better Ubersuggest Or Semrush?
Both of these tools are best for content creation. For blog research and the content positioning, Ubersuggest is the best one, but for the overall SEO analysis, SEMrush is far better.
Q3: Who Owns The Ubersuggest?
Neil Patel himself creates Ubersugggest. This is a free tool that also has subscription options.
Wrapping It All Up
There you with Ubersuggest Chrome Extension: How To Get More SEO Traffic Using It?
We have given all the 5 steps that are used to get traffic by using the Ubersuggest chrome extension. Also, you can check all google extensions. Along with the traffic increases you can see the Ubersuggest price and features. And now you can evaluate how much effective this tool is for you. All we want is just to use any tool which is a pretty cost-effective solution for all of us. And at the end, these tools also generate the good expected result and help you to create more robust content. Are you thinking to use this tool?
Leave a comment in the comment box and let us know your doubts, so that we can come up with a relevant answer.
Read Also: