Error while creating a copy in Google drive can occur due to the issues that your browser has. It generally occurs when there is corruption in the cache or there is a browser conflict. Not only these but the add-ons and extensions can also cause trouble and lead to Google drive errors while creating the copy.
You will notice a pop pointing towards the progress which is an error creating copy Google drive when you will start copying a file in there. 
The process after all does not end in completion, as the pop appears again to warn 'error creating file'. There is nothing to stress about it though, technical errors will occur and there are solutions too to fix it for good.
You have to keep in mind that the upload limit should be 750 GB. So when it says error creating copy Google drive check the GB before looking into trouble shooting methods. 
In this article we will be discussing what error creating copy Google drive  is and how to fix it. Keep reading. 
What is Google Drive Error Creating Copy?
Google drive error creating copy occurs for extensions and add-ons. Suppose you are making a copy and suddenly they pop-up points at "error creating the file", what is your next thing to do?
first, check the GB, see did it exceed the daily upload limit, if yes then go back and form your file back, try to keep it within 750GB. If not, then follow these steps to fix it. 
How To Fix Error Creating Copy Google Drive?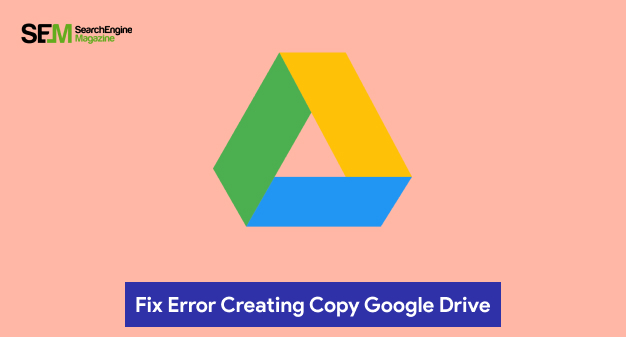 After knowing what it is and how it occurs, we come to the step where we can fix it and continue with our work. Since the error has many reasons to occur, this article will be giving you different problems and also the solution to fix them. Here we go!
1. Exceeding Daily Upload Limit
Most of us are unaware that Google Drive has a daily upload limit, and if you cross it, it will show an 'error in uploading file'. According to Google, a user can upload up to 750 GB, between all shared devices and My Drive.
Once you cross it accidentally or intentionally, it doesn't matter because in both cases Google won't upload that. 
This issue also creates additional problems on your Google Drive, which will not let you create any copy for any of your files. So if uploaded too many files in a single day, then you will have to wait for 24 hours to get the limit to reset on your Google Drive. 
2. Check Server Status
The error creating copy Google drive may occur because there might be some server-side error that Google Drive is facing. Therefore you must check if all the Google Drive servers are alive or dead. To check the status you can go to the Status Dashboard of Google Workspace.
Let's do something that will make it more interesting to understand. On this page look for Google Drive and look for a green checkmark, if you can then the servers are live. If you see something else other than green, you will have to wait for a while to get the servers back, as it will take time to get resolved. 
3. Google Drive Storage

 
While you are copying a file, you will need extra space on your Google Drive. If you don't have sufficient space to work you will be shown an error creating copy google drive.  So to ensure that, make enough with the available space you have on your drive when copying a file. Here are some steps to follow 
Visit drive.google.com and sign in. 

On the sidebar, there is storage, google drive will show you the space you still have.

Get the file you want to copy and then check the size of it. 

Check the space that is available on your Google Drive, if you have no space then delete a few files to make space and try copying the file. 
4. Incognito Mode

 
As I have mentioned in the previous sections, the error creating copy google drive is because your browser has some problems. There are chances for your browsers to have corrupted files or troubling extensions. 
However, while using the incognito mode on the browser, remember it does not make use of your main browser's cache files or extensions. Therefore you can easily check where the problem is in your browser or is there any problem at all. 
Let me guide you on how to open incognito mode on Google Chrome:
Press CTRL=SHIFT=N, all at once.

You can also click the three dots on the right corner of your chrome page, and then select incognito form there.

Form Mozilla firefox, open incognito by pressing CTRL=SHIFT=P, all at once. 

Or just click the three dots on the right corner, then click New Private Window. 
Once you have applied the incognito mode, navigate to drive.google.com and sign in to your account. Try one more time to copy the file, and see what happens. 
Do you have any ad blockers on your browser? If not then good, if yes then it is the reason why there is so much trouble while copying a file. So, if you block ads and it is a browser extension then snick on the three dots at the right corner on Google drive. 
Click on more tools > extension. Now you have to look for an ad blocker extension and press the toggle button in order to disable it. Relaunch your web browser and see if you can copy a file. 
It's the same while using a VPN to access the internet. If this is your choice you have to disable it as well. Because Google Drive will not let you alter files, as you are making use of Drive from different IP addresses and locations. 
Final Thoughts
There you go with How to Fix Error Creating Copy In google Drive, and along with it you know how to fix it if any problem arrives, as the problems with solutions are mentioned above. 
Keep in mind that it is a temporary error and it will get resolved. Other than this, always check for storage before copying files. 
Leave a comment down below, if you have any doubts, I will definitely try to give a clear picture regarding it.
Read More: