Learn all that you have to know about the Google Panda Update. Scroll down and check out the full timeline, why it was launched, and what we have gathered about its algorithm.
The Google Panda Update: Launch
In February 2011, Google launched the Panda update, and the rest was history. This update was launched with a specific purpose in mind – to boost Google's attempt to eliminate webspam and any black hat search engine optimization tactics. During this time, users were already frustrated with content farms and their rampantly growing influence.
And then, the Google Panda Update was launched with a killer algorithm for making a quality ranking factor for web content. The quality classification was being used internally and created based on actual human ratings. In 2022, it's finally becoming easier to understand the relevance of this update – improved user experience and quality of content.
Here's all that you need to find out about the update – more information that led to its launch, its algorithm, and its entire timeline.
Why Google Launched The Panda Update?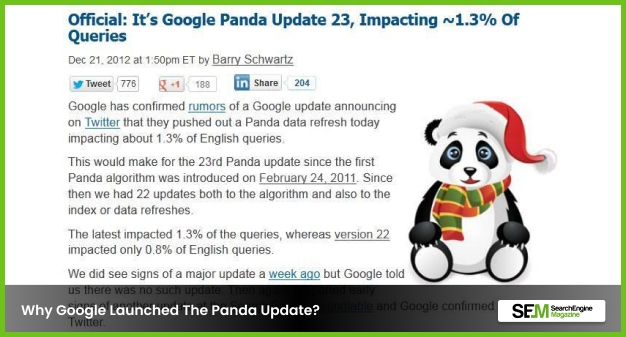 2010 was a truly dark year for Google, with decreasing quality of search results and growing popularity of those content farms. Google's business model was thus suffering greatly.
The then Senior Vice President of Google, Amit Singhal, in fact, later told Wired (at TED) how the 2009 Caffeine update had increased Google's indexing speed but, in the process, had ended up introducing some content that lacked quality. The then head of Webspam, Matt Cutts, even said that this new issue related to content was not a spam issue.
After this, ReadWriteWeb pointed out something quite interesting! They said that by the time 2009 came to an end, two content farms, Answers.com and Demand Media, had already made it to the list of top 20 sites in the US, according to ComScore. Now, these farms were creating nearly 7ooo content pieces every day – the epitome of such farms!
For instance, Demand Media's policy was simple. Pick any niche, create some random content, target search engines, use social software for making those content pieces viral, and make plenty of money through advertisements.
Then Business Insider published a headline that said, "Google's Search Algorithm Has Been Ruined, Time to Move Back to Curation" in January 2011.
Fortunately, all these media coverages started influencing Google significantly. Google's response? The Google Panda Update!
You may like to read: 10 Major Google Algorithm Updates Till 2022
Timeline Of The Google Panda Update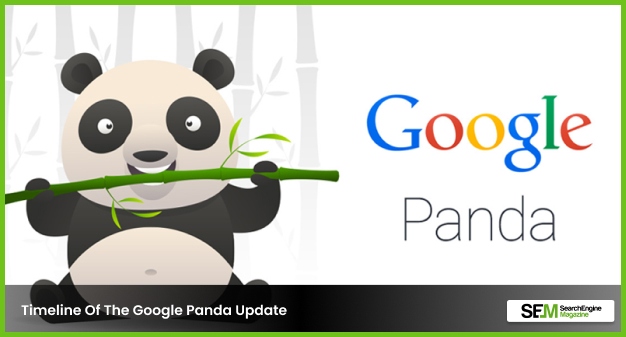 Now that you have a fair idea about what is google panda update is, let's look at its exciting timeline!
January And February 2011 Update
Google punishes Overstock.com and JC Penney for Doubtful Link Building Practices.
At the very beginning of 2011, both Overstock.com and JC Penney saw their rank fall on search engine result pages greatly. It was soon discovered that Google punished these two sites for using shady link-building tactics for moving traffic to their product pages from unimportant sites.
Thus, the quality of inbound links was now based on on-site authority and relevance according to Google's algorithm.
February 2011 Update
The Google Panda Update next punished spammy, low-quality content published by content farms. This update went after all content farms using poor-quality content and, depending primarily on quantity, littered with advertisements. The update affected a solid 12% of the entire search result.
Read more: How To Save Your Sites From Google Update? A Brief Guide
March 2011 Update
Google then came up with incorporating social sharing in its algorithm finally. The result was Google's development of the +1 button – an attempt on Google's plan to gain access back to the world at large.
August 2011 Update
The Panda Google Update was tremendous, and in August, Google came up with displaying Expanded Site Links. This move helped users to find out exactly what they were searching for on any website, even after using some vague phrase for initiating the search in the first place.
For instance, if a user enters Hubspot in the search engine, the user will land on the Hubspot homepage with at least six links to other content by Hubspot that the user might read next.
October 2011 Update
What all the Google updates failed to do all this while was encrypt search queries. So in October, Google even began doing that. As a result, any logged-in user on Google can perform a search without losing search referral information to their destination websites. Simply put, website owners will not be able to find out the keywords users use for landing up on their websites.
November 2011 Update
The Google Panda Update truly changed things forever. The November update started rewarding fresh content – this move impacted a solid 35% of all search queries. Thus, this was Google's choice of rewarding quality over quantity. Today, content that's qualitatively written has better chances of ranking on search engine result pages.
How The Google Panda Update Helped Marketers?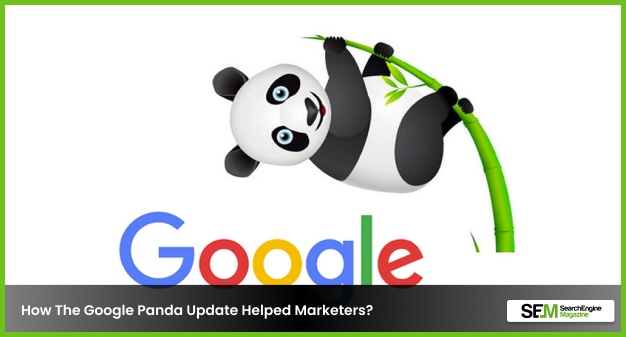 The Google Panda Update was a marketing boon in disguise, but marketers soon figured it out. Scroll down to find out the top 3 benefits of the Panda Update, especially for marketers.
Marketing executives no longer needed to invest a lot of money in buying inbound links. Instead, they could get hold of actual inbound links by simply maintaining the quality of their websites.

Old fashioned marketers loved this one since they no longer had to create those spammy content pieces dense with keywords anymore. Instead, they could go back to market research and create marketing copies that mattered.

With the +1 button, Marketers could use social media for marketing their web content.
Frequently Asked Questions (FAQ): 
1. What Did The Google Panda Update Do?
First launched on 23rd February in 2011, the Google Panda Update punished all low-quality sites with uninspired content and spammy advertisements. Instead, the update proved to be rewarding for all sites publishing original and relevant content. Unfortunately, this meant low-quality sites lost their ranks on SERPs.
2. Does Google Still Use Panda?
Yes, so much so that the Google Panda Update is now thoroughly embedded into the search engine' algorithm. So now, any Panda update will not be interpreted as a standalone update. This is because the update has now become a crucial part of the search engine's core algorithm and is not seen as a single update.
3. What Is Thin Content?
Thin content is content that has hardly any value or is basically of no value. According to Google, any page with uninspired, spammy, or low-quality content is thin content like bad affiliate pages, pages with hardly any content, or even doorway pages.
Wrapping Up
Instead of typing 'google update panda' on search engines, understand why it was launched and closely follow the timeline for a better understanding. The Google Panda Update came in as a savior when people had started losing faith in the now powerful search engine. And well, Google never takes criticisms lightly.
When there were too many criticisms about the search engine, the Panda update was introduced, and the rest was history!
Read Also: