The internet is flowing with different marketing strategies and business plans. All those are helping you to get ahead in your Instagram game. One such bot that will help you gain followers and engagement is Inflact.
So, if you are interested in getting a reliable Instagram bot to increase your profile or brand awareness, then this service can be your suitable choice in 2022.
Let's know in detail about this bot below.
What Is Inflact?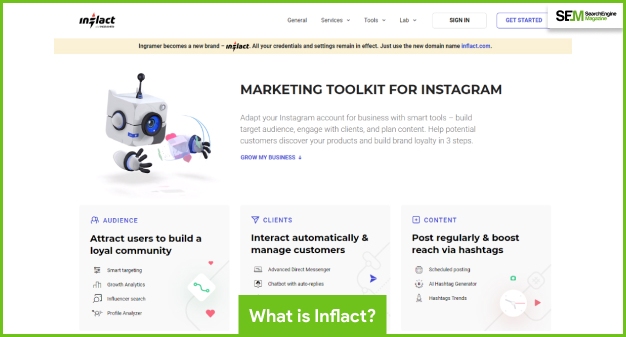 Inflact is a top-rated bot for Instagram. This smart automation service can help you to build a target audience, plan content, and engage with clients. This bot comes with several features that make your profile grow and gain visibility.
Unlike free tools, Inflact helps you get real followers and likes. This is a huge platform for exposure and profile building. This service asserts to be an Instagram marketing toolkit that uses many tools to build your supporters.
You get the real followers that you always wanted in the past. The function of this tool is hidden because the owner doesn't want others to know about their process.
Features Of Inflact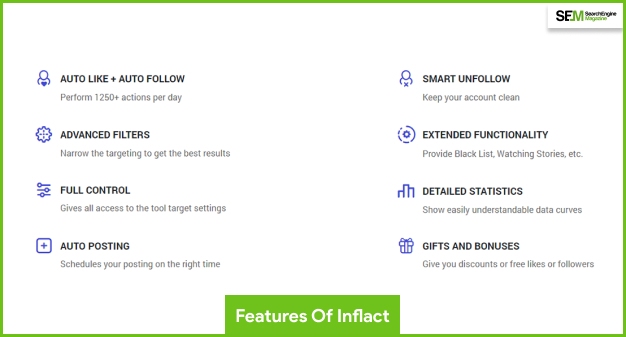 Inflact is a hard-working bot that helps you find the perfect audience from gender to languages and hashtags to usernames. Moreover, it comes with a dashboard where you can execute your automatic following, direct messages, automatic likes, unfollowing, and schedule posting.
The best part about this bot is that it comes with many features that help you to fit in with your niche and industry. Now, let's take a look at the top features of Inflact,
Hashtag Generator:

To make an effective hashtag plan, Inflact will help you with great hashtag suggestions and ideas.

Automatic following and liking:

Another feature of Inflact is automatic following and liking that helps you get automatic following and liking at the same time.

Smart unfollow system:

This feature helps you to gain more followers by simply following and unfollowing procedures.

Specialize filters:

This filter helps you to set your target so that you can have numerous options to customize your targeting and experience.

Complete control:

You get complete control of your service. You can choose the tools as per your requirements and pay accordingly.

Detailed Statistics:

With the help of this tool, you can examine your performance against other Instagrammers in your niche and help you develop new ideas.

Automatic posting:

Automatic posting helps you to post visualizers and schedulers that help you in creating powerful content.

Bonuses and gifts:

Inflact offers an affiliate program that you can join to grab gifts and bonuses through new clients you bring to them.
Inflact Pros & Cons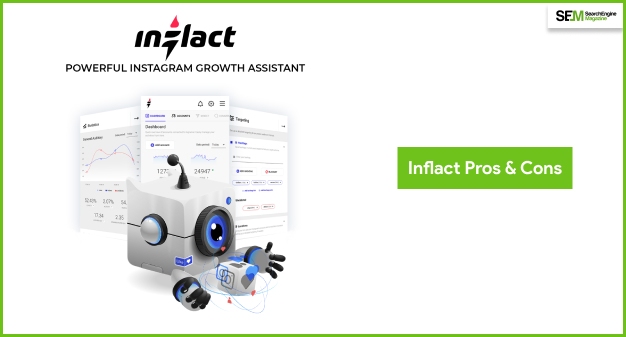 Inflact is a great tool but comes with many advantages and disadvantages that you need to consider beforehand.
Pros:
Many genuine reviews are listed on the platform.

Contact information is available.

Verified gateways when paying.

Pricing is upfront and honest.

The website has SSL encryption.

24/7 online support.

Smart analytics.

Free 3 days trial.
Cons:
Information about the function of the bot is missing.
Does Inflact Really Work?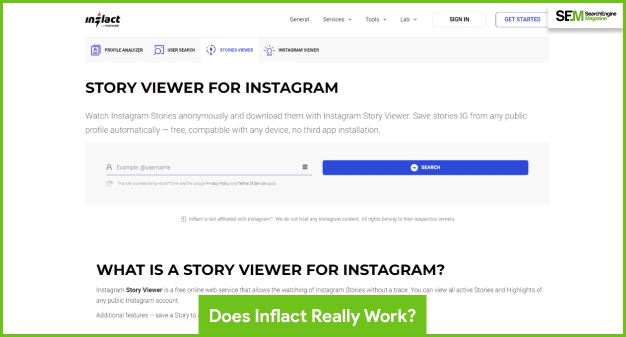 Inflact may not have a professional-looking website, but the features of this website seem to be very attractive. The additional services help clients in every possible way.
Inflact can help you build strong hashtag strategies that may bring more followers to your profile. The only thing that you need to prioritize is content. It should be your top consideration to make your profile look attractive so that if anyone visits, they instantly follow you no matter what.
Now, if you talk about how effective is Inflact, then I would say that it is not that effective because of the strong security of Instagram. This is one of the major reasons why various Instagram services have been shut down. 
Inflact Pricing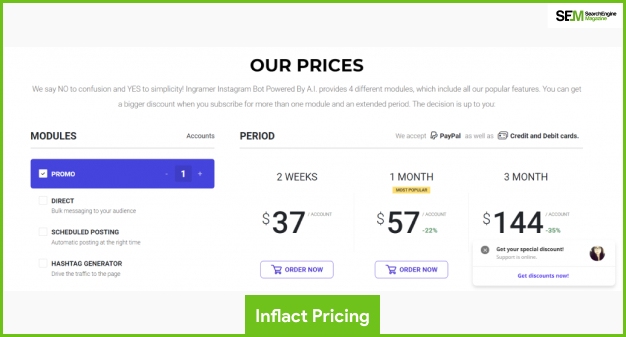 The service claims that you can achieve your 6 figure sales on Instagram after constant use of this bot.
In the subscription period of 2 weeks, you need to pay $37 while in the subscription period of 1 month, you need to pay $57. On the other hand, the subscription period of 3 months charges you $144.
Out of all, the most popular one is the 3 months plan because in this plan, you get around 35% of discount. Whereas, in a 2 weeks plan, you don't get any discount or offers.
How Safe Is Inflact?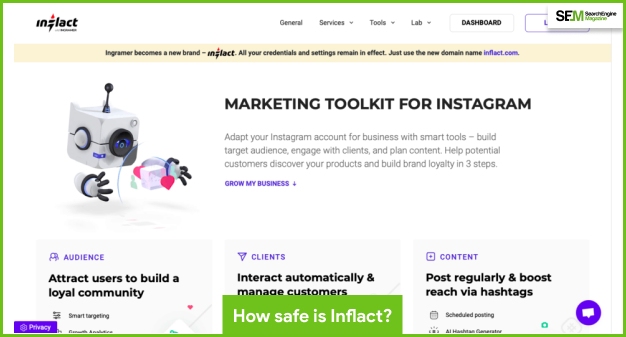 Inflact is completely safe to use in the long run. There are no harmful malware that you need to worry about like in other tools. The well-navigated website is going to make your task a lot easier.
They adjust their features only to suit your requirements. There are more than 500 reviews of Inflact on TrustPilot that makes this platform a trustworthy one.
Inflact Reviews
According to Trustpilot reviews, Inflact offers many features that really help you to make your brand or profile grow and gain visibility on Instagram. The dashboard of Inflact gives you detailed statistics about the growth and the differences that you will see after using the bot.
The customers are completely happy by using the service of Inflact and even you can give it a try at least once. The user experience is very good due to the high-quality customer service provided. Trustpilot gives a score of 4.6 out of 5 which proves that the site is genuine and people are happy with their services.
The Final Thoughts
In short, Inflact is an Instagram bot that claims to provide auto likes, schedule posting, auto comments, follow/unfollow, and many more. So, this is how this tool works by helping you to create visibility of your business on online platforms very easily.
Hence, this is all that you should know about this tool, and let me know in the comment section below if you come across any issues regarding the above information.
Read Also: