What Is Reverse Video Search Engine?
Did you ever find any sarcastic video clip online and wanted to look for the original video? Are you a video creator? Has some random person stolen your video, but you don't know how to search that? We understand that such situations are tremendously frustrating. 
There is a solution to each of these similar issues in this world- 'Reverse Video Search Engine.' Many thanks to the technical configuration these days.  
In simple terms, reverse video search enables you to look around the internet database. It allows revealing the sources of any video or image. This search engine platform works by displaying colossal results about a picture once it is put into the search bar. 
Reverse video detects matches for relevant searches by employing algorithms and other high-tech features, including resolution and size. Precisely, it is a (content-based image retrieval (CBIR) query technique involving providing a CBIR system alongside a sample image. 
In this article, we will respond to the most commonly asked questions about Reverse Video Search Engine:
What is the importance of Reverse Video?

The basic concept of Reverse Video

How to conduct Reverse Video Search on Google?

How to reverse search videos with third-party tools?
Why Reverse Video Search Important?
The duplicity of video content causes much trouble nowadays. This is one of the trending barriers that YouTubers, bloggers, photographers, or content creators face nowadays. But, unfortunately, the roadway to create a unique video is not a bed of roses due to challenges like this. 
The Reverse Video Search Engine makes use of pixels and colors in a video to detect an exact copy. It is clear from the above analysis that the technology is almost similar to that of Reverse Image Search.
Search engines like Google have a colossal database that it continues updating by indexing and crawling fresh content. So if someone attempts to copy your video and published iron his website or blog, you can easily detect it. 
Let us have a quick look at the benefits or importance of Reverse Video Searching in the below segment:
With Reverse Video, you can browse for copyright content and protects yourself from scams.

This tool is significantly helpful in identifying the online sources of a video or image.

It allows you to spot if any object or image is present in your video.

Checking the credibility of an unverified image on social media channels is effortless now. 

The best part of reverse video searching is that you can publish your video with your exclusive signature. 
Specifically, most editors edit the video content taken from another site before spreading it all over the internet. Sadly, this makes the task of copy-finding unimaginably tedious. However, with tools like Reverse Video Search Engine, finding plagiarised content is a lot simpler. 
How To Conduct A Reverse Video Search Through Google Reverse Search?
Google is the most widely used and extensive platform on the planet. The video and image stock on Google is most substantial. Moreover, Google Reverse Search is the speediest search engine that delivers you the desired results within seconds.
According to the perceptions of different experts, the reliability and efficiency of Google Reverse Search are genuinely appreciable. Furthermore, there are no limitations in terms of file attributes such as type, size, and others. The best part is it is an open-source platform. 
The steps to conducting a successful reverse video search by Google reverse search technique are elaborated:
 Visy withe the Google Homepage (

www.google.com

)

Then upload the screenshots of the video or copy-paste the URL

Once you hit enter, the page shows all the relevant results. You can also see the edited copies even if watermarks are used. 

To boost the results further, you can add specific keywords in the search bar.

In this way, you will get YouTube results also. Therefore, the authenticity of the search results enhances. 
Which Methods Are Involved In Reverse Searching Videos Using Third-Party Tools?
In this digital marketing era, users take benefits from a myriad of Reverse Video Search Engine tools. However, limiting yourself to Google is not the finest choice for professional digital marketers. These tricks, if employed correctly, permits you o verify the integrity of a video. 
We have elaborated a handpicked list of 2 well-recognized Reverse Video Search Engine features and tactics to expand your search experience:
i) Berify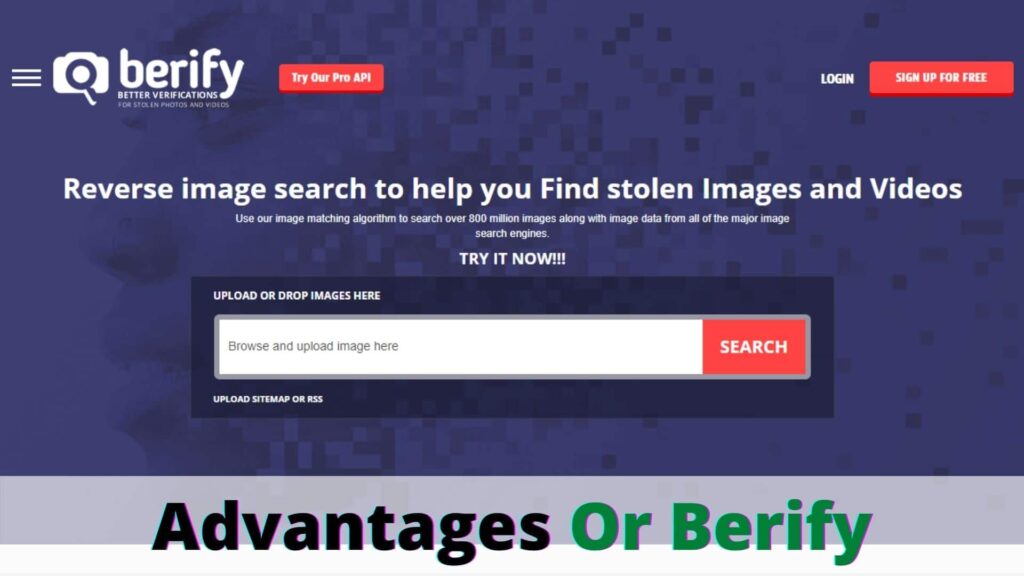 Berify is one extremely familiar reverse video search tool among contemporary digital creators. It gives a lump sum amount of matches for your video. 
The platform is uniquely woven by dedicated experts with specially curated algorithms. In addition to Google image search, it supports Baidu, Yandex, Bing, and other image search engines.  
Advantages Or Berify
Berify's interface lets you upload images directly from social media sites

Berify brings thumbnails into play to find a pilfered video

It runs an extensive search of over 800 images to extract similar videos or images. 

It is a life-saver. You can save valuable time as Berify manually safeguards your work by checking regularly. If it recognizes any similarity, you will get an automated email from the team informing you about the thievery.
Steps To Reverse Video Search With Berify
Visit the page

www.berify.com

Upload the images of the targeted video in the search box. Do you want to hear a secret tip? Berify free version allows up to 5 pictures in one search. 

The search matches will appear before you after Berify finishes running ye images through its database. 

You have the opportunity to customize your search by adding tags and frequency.
ii) TinEye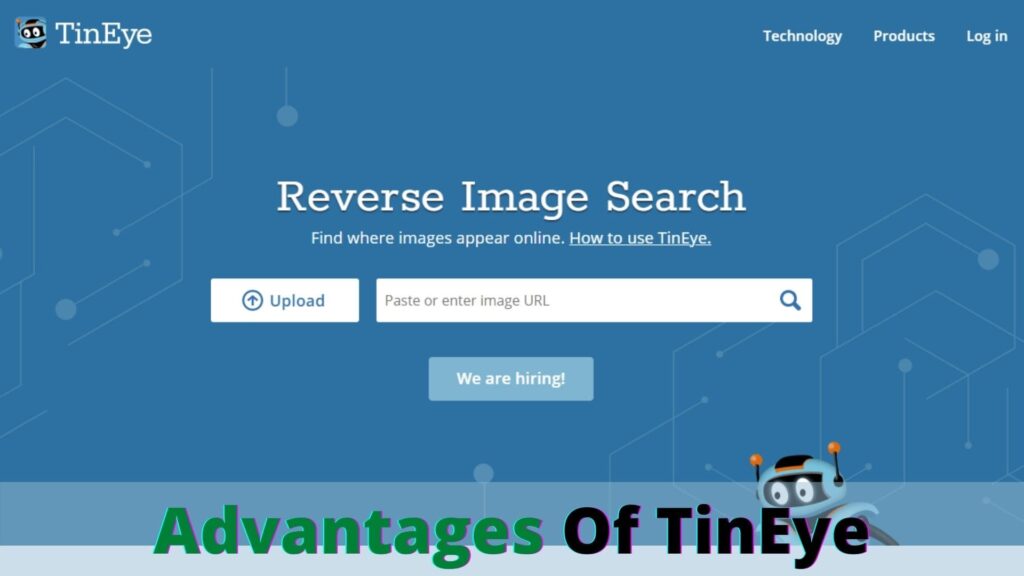 It is a Toronto-based search engine platform that innovated image identification features for the very first time. It deploys machine learning, pattern recognition as well as computer concepts to pick out exact video matches. 
Advantages Of TinEye
The user interface is pretty uncomplicated.

It is possible to track a modified image. 

With the free version, you can search up to 150 pictures per week

You can now trace the copyrighted shreds of content and get extensions of Chrome, Firefox, or Safari
Disadvantages Of TinEye
It prohibits you from searching with keywords

To extend the search limits, you need to avail of their yearly plans that are $200 each year.

The maximum upload size is limited to 20MB.

TinEye has no provision to identify any person or image in an image.
Steps To Reverse Video Search With TinEye
Take snapshots of the intended video

Browse the website TinEye.com

Upload the video URL or the screen images in the search bar

And there you go! The results are in front of you. 
FAQ
1.Can You Reverse Trace A Video?
Yes, by using reverse video searching, you can easily trace the video. For example, you can try the following easy steps to trace the video from your Android phone.
Step1: First, start with downloading the Google lens application from your android device.
Step2:Then open the application and tap on the image button, which is on the left side of the camera shutter.
Step3:Browse and select the image that you want to reverse search from your device.
Step4:Now it is going to show you the image options which you want to reverse search.
Step5:Select the image and confirm the process to proceed with the reverse search.
2.Can You Do A Reverse Search From Your iPhone?
Yes, for doing the reverse search, you don't always have to use android devices. For example, you can easily use Safari from your iPhone and run the reverse search for reverse image search.
Follow these easy steps and run the reverse image search from your iPhone Using Safari.
Step1: First, open the images from google.com.
Step2: You will get the share button at the bottom of the window. Tap on that button
Step3:Now you can click on the desktop site request options to reload the web page and upload the files or URL.
At last, you will find a small camera icon near your search bar. You can upload the image. Else just copy-paste the URL links and press enter to perform the reverse image search.
Conclusion
The acceptability of Reverse Video Search Engine is gradually emerging. Social media influencers, bloggers, and budding entrepreneurs employ it to ensure the distinctiveness of their work. 
If all you want to do is conduct a basic reverse search, the no-cost Google reverse search should be your first preference. On the contrary, you require selecting a convenient subscription service if you wish to secure your content from theft.
Read Also: