Dogpile is different from Google because Google has an installed algorithm for browsing millions of web pages before giving us a search result. On the other hand, Dogpile gives us search results derived from prominent search engines. 
Unlike many other search engines, the Dogpile search engine has its unique way of evaluating the content of all web pages before giving us a search result. In Europe and the UK, Dogpile's current name is WebFetch, and its motto is to reinstate its image amongst its users.
What is Dogpile? Definition and Overview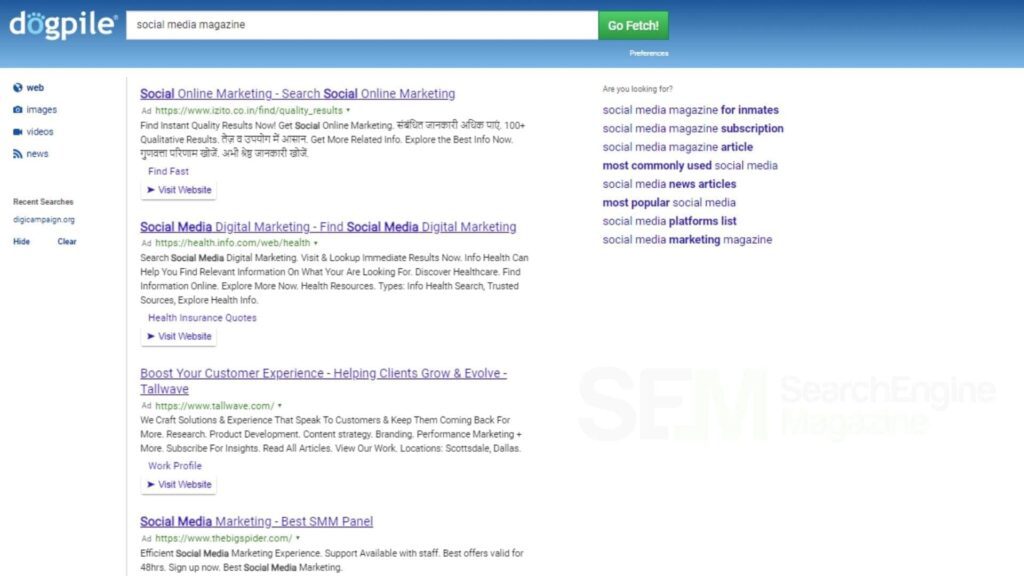 Metasearch engines are more competent than web search engines because, in web search, we get the results that are browsed through several web pages. However, in metasearch, we get the results that are browsed through several search engines. Hence, Dogpile is a metasearch engine, and this intuitive method is obligated to enhance the performance of search results. 
Dogpile search engine fetches the search results browsed through search engines like Yahoo, Bing, Google, Mozilla, etc. In 1996, Aaron Flin created Dogpile to make it an authentic source for search results. In addition, Dogpile focuses on crowdsourcing by using metasearch technology. 
If we search for something in Dogpile, which can be as simple as 'What are the best luxurious hotels in the USA?', or it could be something complex like, 'What are the new coding techniques in Python?', the search results will be more than authentic and more credible than other search engines. Now, you may ask why and I will tell you because Dogpile collects data from other search engines, analyzes the contents, removes the identical findings, and finally gives us the few best results.
What Are Some Unique Features of Dogpile?
Dogpile search engine has several unique features. It provides category links to focus on a specific type of search, for example, audio, video, news, image, etc. It can record the recent 15 investigations, which helps the users even if the website is closed accidentally. Nonetheless, this search history resets itself when the browser is closed. 
Dogpile search engine can correct the commonly misspelled words, and it even offers suggestions for misspelled words. The search filter is a unique feature of this search engine because, in Dogpile, we do not get to see view the potentially explicit contents. Dogpile blocks those contents in a moderate setting for multimedia search.
Moreover, in the Dogpile search engine, we can set our preferences because it provides us with a link for our customized search preferences. In addition, there is a statistic bar available here that shows exactly how many search results are available that are unique in their contents. Finally, this search engine also has an IntelliFind feature that provides additional search content related to the original search keyword. 
Read Also: Sofurry: Complete Guide to Sofurry Search Engine
What is New about Dogpile Search Toolbar?
In 2019, Dogpile announced some new features in its search toolbar to help users get better and faster search results. You can download it now at www.dogpile.com/toolbar.htm. But, if you download it, then it will stay within the web browser. And, it will not provide you results browsed through search engines and those, which are browsed through yellow pages, white pages, and from any other random pages of the Internet. 
If you happen to surf through the news ticker feature, it will give you some of the current trending headlines from top news sites. You can also customize the news ticker feature and can keep it turned on and off as you wish. 
While web browsing, the pop-up adblocker feature eradicates the pop-ups. There is also a blocker screen pop-up feature that removes the advertisements from the search results. This feature further allows the users to configure from which sites they are willing to receive pop-ups. 
Even if you are not paying attention, you will get notified through certain sounds or cursor movements if any relevant pop-ups are available matching your recent search. Now, you can also choose the sound and keep it turned on and off as you wish. 
Finally, another new feature added to the Dogpile search engine is the cursor search. In this feature, users can highlight any word or phrase from the matching search results, and if they right-click on it, they will be directed straight to the search results that match those words and phrases.
Has Dogpile Changed Its Name, And How Does It Impact Us?
Dogpile search engine's current name is WebFetch because it creates a broader comprehension of European and British users. However, in the US, the name Dogpile is still there on the search toolbar and the metasearch engine. Hence, the name change does not impact its users because it still depends on other search engines for fetching the best result, and the list of resources and web directories also use paid inclusion sites and vertical search engines. 
With the change of its identity, the Dogpile search engine is now helpful for Internet Explorer users. In addition, it has introduced a new scrolling toolbar for them, enabling them to keep a record of their feeds in an accessible format. The news feeds generally come from three pre-configured sites, but they can change their settings and add any preferable RSS feeds they want if the users want. 
Users can also access the already downloaded feeds from the toolbar and get an idea of their search results so far. Therefore, the name change of dogpile might have increased its popularity in European and British users, but it has not cast any adverse impact on the users for the rest of the world.
Read Also: Startpage: Complete Guide to Startpage Search Engine
Dogpile Ranking as a Search Engine
The ranking of Dogpile as a search engine is not mention-worthy. After Google, Bing, Yahoo, Baidu, Yandex, Dogpile search engine holds a rank. Moreover, in the metasearch engine list, it also ranks lower than DuckDuckGo. The problem with metasearch engines is their security but aversion towards social engineering and ads, users DuckDuckGo for its privacy settings, questionable in Dogpile.
However, the Dogpile search engine is ranked relatively high if it is only judged on its ability to provide some unique search results. The pop-up blocker, search toolbar, web search, and highlighting word or phrase from a text to enter new search result options are outstanding in this search engine. Indeed, the Dogpile search engine is not popular, but it takes time to realize its true potential. That is why people who used it still prefer using it to provide more relevant and concise results for their queries. 
Dogpile was also awarded many times the best tool for web search, ensuring that people used to prefer this search engine a lot. Dogpile also improved its metasearch engine technology for helping users find more relevant information as to their search results so you can trust it without a shred of doubt. 
Conclusion
Dogpile is interested in improving its service to make it a better platform for its users and compete with other search engines in the market. However, people do not use it so often because this search engine is not promoted so widely. The sponsored ads of Google do not let us stray from the Google search engine, which has limited our ability to try out new things. However, people who use dogpile seem to like it, so we would like to say that you can try and then decide how well it matches your preferences. 
Read Also: