Today, the most thriving companies are those that have integrated automated eCommerce solutions into their work processes. However, this hasn't always been the case. Unlike B2C, the adoption of marketplaces in the B2B landscape is no easy task.
For B2B buyers, buying goods or services online without seeing the product or human contact is very risky. B2B involves highly complex products or services that are difficult to describe, have low asset specificity, and are difficult to standardize. That means the decision of their purchase is based on search qualities that cannot be evaluated completely before the transaction.
This scenario creates hurdles for the buyers because they can only purchase easily describable products or standardized items with low asset specificity. Also, the buyer is often unsure of the product's quality.
Therefore, the inability to accurately characterize its products is one of two reasons electronics B2B Marketplace platforms have not succeeded in attracting relational exchanges.
The other is that many companies have made specific IT investments into relationships with large suppliers, so-called Electronic Data Interchange (EDI) networks.
And these private networks allow them to integrate their suppliers into their value chain. As a result, existing EDI networks make Electronic B2B Marketplaces unattractive to buyers and sellers.
How Can Electronics B2B Marketplaces Improve Customer Relationships:
In B2B marketing, electronics B2B Marketplace platforms can attract relational exchanges by leveraging these two options: providing additional services and actively supporting existing relationships.
1. Provide additional services
Providing additional services helps reduce transaction costs and thus shifts relationships towards more market-like coordination, in which current value generation models apply.
However, these other services need to be designed to minimize uncertainty and specificity. Electronic B2B Marketplaces have taken specific measures (especially for data exchange) to reduce specificity.
Information economics analyzes ways in which business partners try to reduce uncertainty. The three types of uncertainty affecting the B2B electronics marketplace include price, quality, and behavioral uncertainty.
Being able to compare prices is a viable solution for price uncertainty. So, electronic B2B Marketplaces can significantly reduce search costs, especially those using the catalog consolidation or market-making model.
However, price uncertainty does not significantly impact the formation of customer relationships compared to behavioral and quality uncertainty. To reduce the latter, buyers need to get adequate information on the product or service first.
To gain information about the quality of products, buyers can use information substitutes. This information may be about product inputs, production technologies, and the supplier's general performance, provided by the company, other buyers, or independent parties.
That means electronic B2B Marketplaces can provide value to buyers by offering necessary information (participants' certification, performance ratings of participants, etc.) to reduce uncertainty.
While these measures might reduce the switching costs, keep in mind that they will not offset tangible and intangible investments made into the relationship.
2. Actively support existing relationships
Electronic B2B Marketplaces provide an opportunity to establish EDI-like relationships with many smaller firms using public communication channels such as the Internet.
The integration models can generate value by linking buyer and seller back-end systems, thereby giving them all the benefits offered by EDI networks but at a lower cost. They will also extend connections to the immediate customer or supplier and all companies in the supply chain.
Therefore, Electronics B2B Marketplace platforms become a highly competitive entities joining the network and generating profits by adding more users to the system and network.
They also intensify existing relationships by improving communications between the parties involved and facilitating collaboration between companies, such as joint product development, testing, product customization, etc.
Additionally, electronics B2B Marketplaces can realize economies of scale by providing these services to companies and maintaining the highest standard of confidentiality. This gives them an edge over private applications.
Best Solutions For B2B Marketplace Platforms for 2021: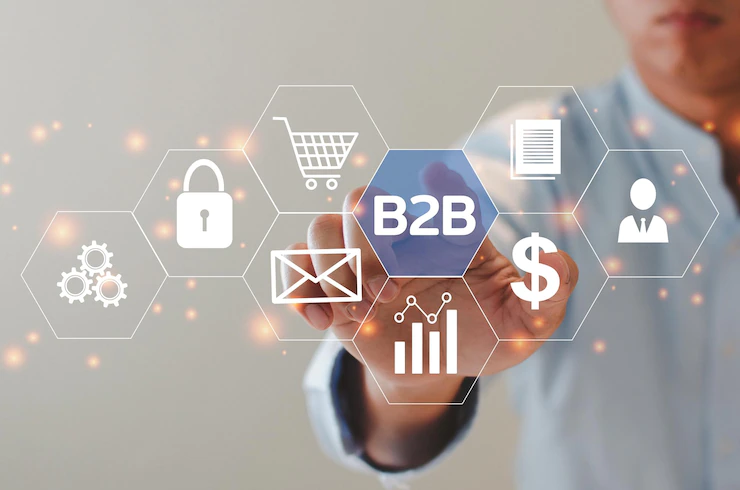 1. OroMarketPlace
OroMarketplace is a robust marketplace management software. It's built on the same open-source B2B architecture that underpins OroCommerce and can handle any size marketplace.
It allows you to manage several eCommerce websites from the same back end. It supports B2B, B2X, B2C, and any other type of connection. It also offers a CRM system that vendors and operators can use.
Oro also has many reporting and workflow engines and is open source, having a scalable API and a third-party integration system. As a result, it is consistently one of the most highly recommended solutions to electronics B2B marketplace platforms.
2. Marketplace
This platform is suitable for both B2C and B2B transactions. It is a vendor and operator portal that also includes front-end modules, and supports event booking, services, and digital products. The API also works with Magento, Shopify, WooCommerce, and other popular e-commerce systems.
3. Mirakl
Mirakl manages the back-end of B2B and B2C markets without having to worry about the front end. They give APIs and pre-built connectors that connect to your front-end purchasing experience, which is a big plus. Mirakl connects with Salesforce, SAP Commerce Cloud, Magento, and many other corporate front-end solutions.
They also provide operators and sellers with top-level product administration, reporting, and data monitoring.
4. Izberg
Izberg is a preferred B2B electronics marketplace choice for companies looking to do business in the European Union. Izberg, like Mirakl, is a back-end-only marketplace platform that integrates shops via APIs. As a result, Izberg can be used for both B2B and B2C marketplaces.
Izberg provides support with invoicing, payments, and a variety of other B2B needs. In addition, it supports both physical and digital products and services.
5. AppDirect
Unlike IZBERG and Miraki, AppDirect offers both front-end and back-end functionality and focuses on digital services. If you're selling tangible goods, this might not be the best option. AppDirect also provides API connectivity for other solutions.
AppDirect is remarkable for seller onboarding and product management. However, it also offers a myriad of functionalities that are attractive to vendors.
Over to you
While finding the perfect electronics B2B Marketplace platform is not an easy decision and there are a lot of factors to consider, with due diligence, it's doable.
The right electronics B2B marketplaces are built on flexible, scalable technologies and interact with standard business systems with ease. Take advantage of the insights provided in this article to find the best B2B Marketplace for your particular business.
Read Also: