SEO Meta tags provide in-depth detail about your web page. It is one of the best ways to help the search engine to understand the content on that page. Most people misunderstand these little tags and give them a bad rap.
The reason is that we have so many people who are misusing SEO Meta tags. In the past, you would find users manipulating the search engine algorithms by stuffing keywords in their Metadata. Due to this, Google has changed its algorithm on how it values and treats Meta tags.
You need to understand how the Google algorithm works when it comes to Meta tags. One thing you need to understand is that Meta tags are a secret sauce of your SEO success. This article will look at the evolution of SEO Meta tags and how you can use them to your advantage.
It is good to know the best practices of SEO Meta tags and the ones that you need to avoid. Most people get it wrong because they lack this critical information. Let us start by looking at the meaning of Meta tags before we can move forward.
What are SEO Meta Tags?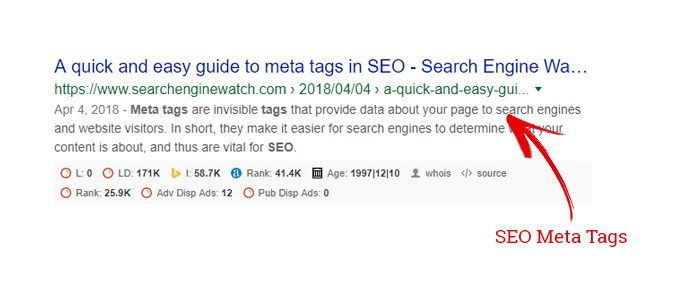 SEO Meta tags are tiny bits of HTML coding that assist in describing the content on your web page to various search engines like Google. The term "Meta" is a short form of the word "metadata."
It is supplemental on your web pages like the page description, title, and content type. The search engine will use the Metadata in the SERPs (Search Engine Results Pages) that it shows to users.
When you check your SEO Meta tags, you will find the critical issues that affect the indexability of your website. It is good to understand all this information before proceeding with this topic. The other thing you could be asking is whether you need Meta tags for SEO.
Are Meta Tags Useful for SEO:
Meta tags are not only important but also necessary for SEO. It is an excellent strategy from the introduction of the SEO strategy. The use and value of SEO Meta tags have been evolving and you cannot neglect them.
Meta Tags HTML: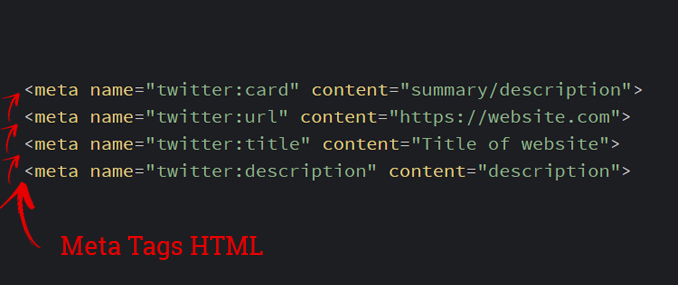 Metadata resides in the head portion i.e. the header tag on all your web posts and pages. You will find them on all your posts and pages. It is easy to add the Meta tag in the HTML using the CMS page editor fields or WordPress plugin.
After inserting them in the HTML, they will start working and will become visible to the search engine crawlers. This information will give you a better understanding of how SEO Meta tags work. It forms the basis of understanding this topic.
Most Crucial Meta Tags:
If you want to get a good ranking in the search engine, you have to use the SEO Meta tags for the right purpose. These inclusions can make significant effects on the ranking of your website in the search engine.
If you use SEO Meta tags in the right manner, it will help in enhancing the user experience. The two main things to consider are the Meta description and title tag. We can confidently say that they are the most important Meta Tags in the market.
Google Meta Tags: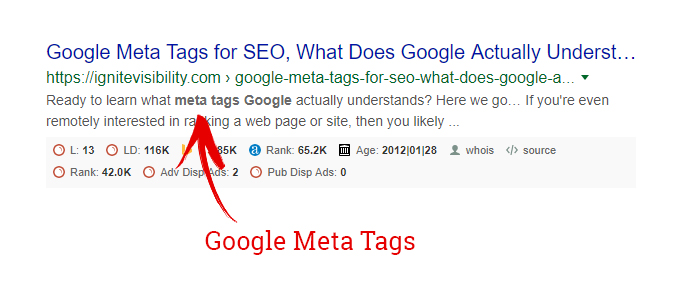 Search engines value Meta tags in different ways. However, Google ranks top when you want to learn how to use Meta Tags. The comments from Google Meta tags can help you to work with any other search engine.
It is crucial to pay close attention to these differences and adapt your site and optimization requirements. Proper use of Meta tags will tell Google who you are and the main intention of your content. Therefore, Google Meta tags are the primary determinants of your ranking in the search engine.
You can use it in content such as SlideShare, rich media, webinar, service, and product and blog post. You can use the SERP key to check the Meta tags that influence SEO and the Google search results.
One of the things that search engine value is informative content which answers the questions of searchers concisely. When you optimize Meta tags for SEO, it will highlight the top elements in your content. You will discover that your site will begin to stand out in the search results.
The Best SEO Meta Tags:
1. Title Tag: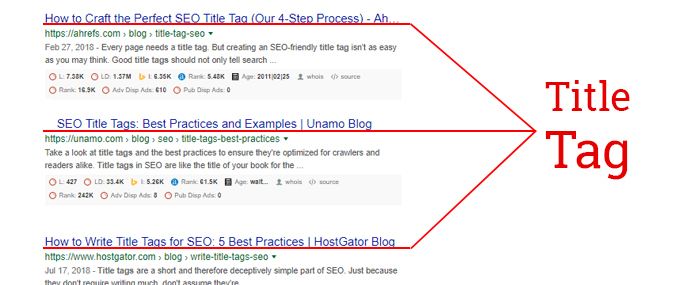 These are among the widely used SEO Meta tags. Even though it is not a Meta tag technically, you will always find people using it when tagging their web pages.
It is an HTML tag or SEO title that presents a concise description of the web page. It is a crucial element in social sharing, usability, and SEO. Search engines normally use the tag and then display it as a clickable hyperlink in the Search Engine Results Pages.
The SEO Title has to be unique and present on all your web pages. The best title tags should range between 50 to 60 characters in length. Don't forget to include your focus keyword in this statement. It is one of the ways to optimize your title tag for SEO.
2. Meta Description Tag: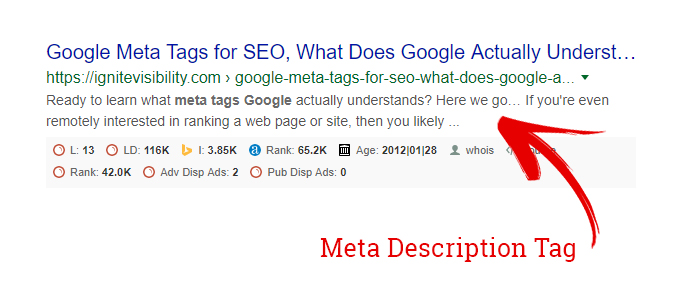 The application of Meta description tags is popular in SEO marketing. In 2009, Google announced that it will no longer continue to impact the ranking of your website. The reason was that the purpose of Meta description tags had evolved.
Currently, Meta description tags only have one crucial role to play. It is used to improve the click-through rate (CTR) of your website. The tag now serves the purpose of being the organic ad copy on your website. It helps the searchers as they try to skin through the Search Engine Results Pages.
Therefore, you should write a better ad if you want to get a high number of clicks? Most SEO experts will tell you that the process is quite simple. The length of the Meta description tag should be 160 characters in length.
Observing these guidelines when creating Meta description tags that increase your click-through rate. It is one of the best ways to increase your conversion rate. Remember this the main reason people create a website for their brand. The tactics will help you to create a winning Meta description tag.
3. Viewport Tag: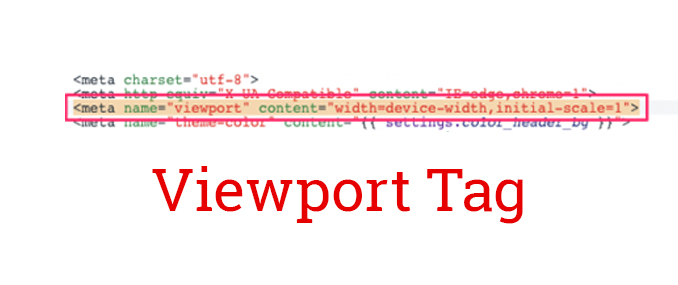 We are living in a world that is evolving around mobile devices. Therefore, specifying a viewport tag and promoting mobile-friendly experiences is vital. Viewport tags are not a common inclusion on any modern website.
If you don't have these tags on your website, the page will display for the widths of the desktop. It is important to make sure that all your pages are scaled for the use of mobile devices. You don't want the type of results that will force you to zoom and pinch the screen to view the content.
4. Social Meta Tags: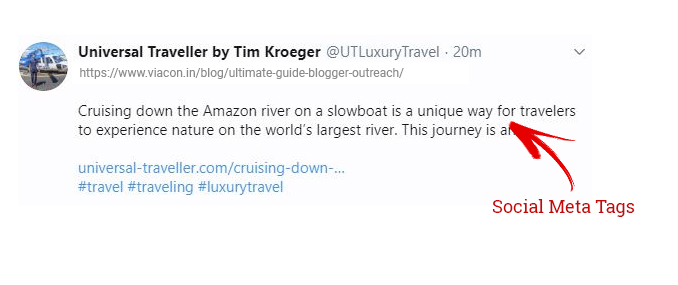 You should also include social SEO Meta tags for Instagram, Pinterest, Facebook, and Twitter. It will help you in optimizing social sharing streams for your web content. Social Meta tags allow you to stipulate how your images, descriptions, and titles will appear on social media.
Optimizing social content will spread easily with mentions and re-shares. This results in new inbound links for your content and this has a positive effect on SEO. It is one of the most effective strategies in SEO Meta tags.
5. Meta Content-Type tag:
These SEO Meta tags determine the character set for the page and have to be present on all pages. In the absence of these tags, web pages will not render correctly on the browser. It is good to make sure that you are having them at all times on your website.
6. Canonical Tag: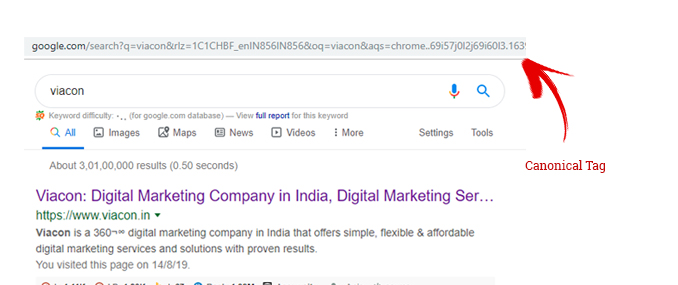 Canonical SEO Meta tags are technically speaking not Meta tags. In most cases, people include them in tagging web pages. The major search engine was the first to introduce this concept in 2009. It is among the biggest advancements in the SEO Industry.
The main role of canonical tags is to inform search engines that a particular website is the preferred web page version. In the marketing sphere, it is also referred to as 'rel canonical' of 'canonical URL."
As a result, both the URLs will reflect the web page but the crawler will see them differently. If this takes place, Google can index the two URLs and this can be confusing to search users.
The use of canonical Meta tags will help you to avoid duplicate content. You will get warnings for any multiple URLs. If you want to learn more about SEO, YOAST has some of the best articles on this topic.  It will help you to get the maximum benefits from your metadata efforts.
Specific Use SEO Meta Tags:
Some Meta tags are useful in certain situations but not essential when it comes to SEO. The first example in this scenario is the Bit tags. The tags give particular bot instructions like Googlebot. In most cases, you don't require them because search engines do an excellent job in managing their behavior. However, you may require some special management instructions in some cases.
The second one is Geo and Bing supports these tags but Google doesn't. Language is an excellent tag if your website is reaching an international audience. It will help you in declaring an official language for the web page.
Most people still believe in robots Meta tags. However, they are only crucial if you want to change the link or indexing following instructions. If you omit them, Google utilizes the default index value, follow.
The next one is refresh which is an old school technique used to re-direct a web page. Google is not a fan and prefers the use of a server-side 301 redirect. The last one is site verification which you use in verifying your website with Bing and Google.
Deprecated Meta Tags:
The main one under this category is the keywords tag. It is a string of keywords that are separated with commas and relevant to your web page topic.  In the past, keyword SEO Meta tags were primary ranking factors until some marketers started to abuse it. Google stopped using this tag as a ranking factor in September 2009. Therefore, don't include it if you want your plan to succeed.
Unnecessary SEO Meta Tags:
The first thing you need to understand is that these tags will not harm your website in any way. However, they are just occupying your space and will not help your SEO in any way. It could be the right time to clean up some of the tags. These include
Abstract tag that uses a short sentence to describe a web page. It's rarely used because most people prefer the use of the description Meta tag. The other one is the author tags which name the author of the web page but are unnecessary. Currently, Google respects authorship markup and recommends using rel=author in donating the author instead.
The cache-control tag controls the number of times the web page caches in your browser. Google prefers users to put cache control in HTTP headers. The other useless tag is the copyright because the footer already has the copyright of the site and there is no need to declare it again.
The other unnecessary tags include distribution, date of expiry, generator, rating, resource type, and revisit after. You will discover that most of these tags have no use. It is good to concentrate on SEO Meta tags that add value to your website.
Conclusion:
With this information, you have a lot of knowledge about SEO Meta tags. The most important thing is to choose the right Meta tags and use them correctly. Understand what is not useful and stripe it off from your list. You need to undertake actions that will boost your rating in the search engine. [email protected] will help you make the right decisions when it comes to SEO Meta tags.
Read Also: