Out of 100, 85% of customers go online while searching for business. If you have an approved business, then you can think of running local services ads to reach these customers. There is a chance of receiving a Google screened badge of trust as well.
There is a difference between Google Screened and Google Guaranteed, though. What do you know about being screened? Are you gouging to get profit through this Google Screened?
We have the answers for you; all you have to do is keep reading.
In this article, we will be reviewing everything that you must know before putting your faith in Google Screened. If you know Google screened properly, then it will help you with your competitive edge.
Through this, you can reach out to more consumers, boost brand awareness, and will be able to successfully step up sales.
Let's begin the Google Screened tour.
What Is Google Screened?
I know you have this one and only question inside your head right now, what difference will it make by having Google screened?
Well, Google screened and Google Guaranteed are a bit different from each other, as I have mentioned above. They are both badges of trust that are given to all professional businesses. Therefore you will have to get a badge of trust from Google in order to run the local service ads.
If you search for local business on Google, you will see all the mixture of paid ads as well as search results. Businesses are able to boost their own organic ranking with the help of SEO. They are as well capable of paying for advertisements by making use of PPC Google ads.
A risk remains of PPC getting costly for you if you don't have much knowledge about it and how it works. Ranking for organic search results can take time. Now we have more businesses that are using Local Service Ads to reach the customers.
Read More: Which Default Traffic Source Dimensions Does Google Analytics Report For Each Website Visitor
There are certain things that local service ads display:
Name

Business hours.

Contact number.

Google rating.

Service area.

Google Guaranteed sticker.
It's likely for the ads to appear whenever somebody searches for your location and service. For example, a local ad can appear when someone is looking for 'plumber new york.'
Therefore a consumer can click on the ad, choose what kind of job they need and then get an appointment.
The Google Screened badge usually helps a professional service business to establish its online business. You will be able to earn this badge with the help of a background and license check.
 Once you get approved, you will see a Google screened checkmark on your local service listing.
How Does It Work?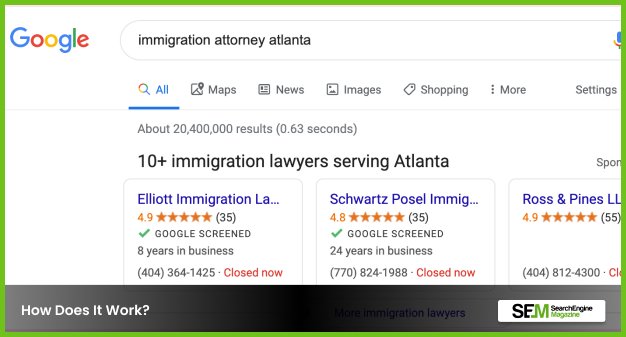 Before you get excited about getting a google screened badge, you and your business must go through a business-level background check.
All the professionals are expected to pass the license check; some of your employees might also have to go through and pass the license background check.
These checks have only one reason, and that is to show the consumers that the businesses they are interested in are well checked and approved by authorities.
Therefore consumers are going to feel good about the originality of the business and will also think less of their security.
Benefits Of Google Screened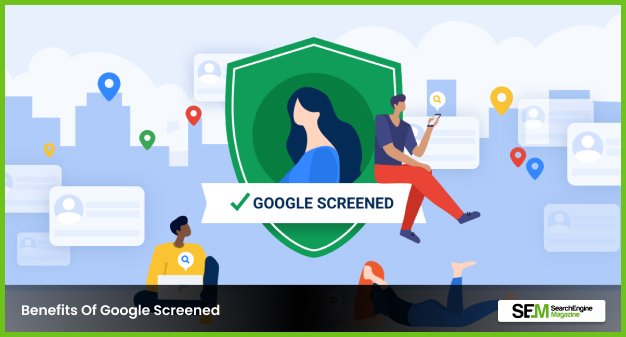 It takes time before you are in the developing brand awareness business. Repetition and consistency are the key points over time.
In fact, it will take less than 15 seconds for a customer to form an impression of the brand. Meanwhile, there are 60% of consumers comfortable with the brands they already know of.
 It also takes time for customers to show their loyalty towards a particular brand.
A 2% increase in customer retention can easily lower the costs, which is as much as 10%.
The approval of your Google Screened will let you create Local Service Ads; therefore, you can gain experience on benefits such as:
Hearing from customers who have selected your profile.

Having to pay per lead.

Getting to be at the top of Google SERPs.

Appearing for voice searches.

Nor wasting time on keyword research.

Boosting brand trust and loyalty.
You May Also Like This: Why You Should Consult A Marketing Agency In 2022?
Eligible Businesses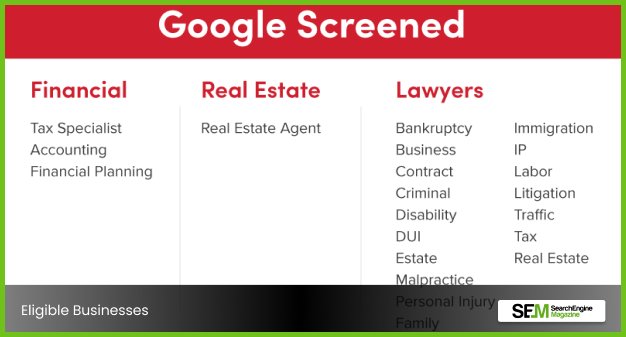 There are very few companies in certain industries that have become Google Screened Business. Businesses that are eligible are law, planning, real estate.
Financial businesses, you have tax specialists, accountants, and financial planning experts.
For real estate, you have agents who are eligible for this.
For lawyers, there is a huge list:
Estate.

Labour.

DUI.

Malpractice.

Immigration.

Litigation.

Traffic.

Real estate.

Tax. IP.

Family.

Disability.

Personal injury.

Criminal.

Contract.

Bankruptcy.

Business.
Building Brand Trust- Google Screened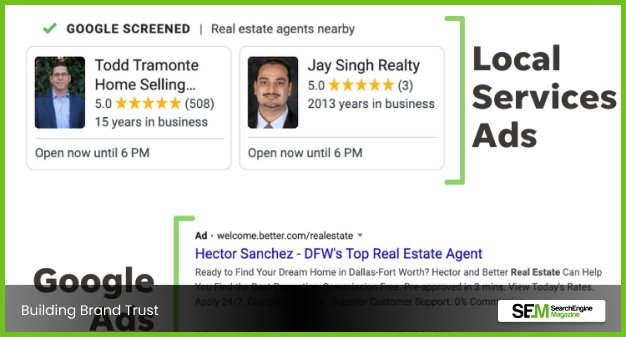 It is obvious for customers to not trust a business that they have never heard of before. Therefore, if you could gain Google's endorsement, then it will help you in your business, as customers are going to rely on you and show trust just because the badge is giving them relief.
Once they choose your business and start using your products or services, they will know the value and high-quality ways you use to serve your services to the customers. Therefore it is time for turning brand trust into brand loyalty.
You can convince the customers to give their ratings on Google, along with reviews and adding stars to boost your brand's reputation. In addition, when you boost your brand awareness,
It improves the ranking that includes:
Position of your website when compared to the competition.

Improving brand loyalty and trust.

Boosting conversions, leads, and sales.

Increasing brand recognition. Generating more website traffic.
The Googled Screened Process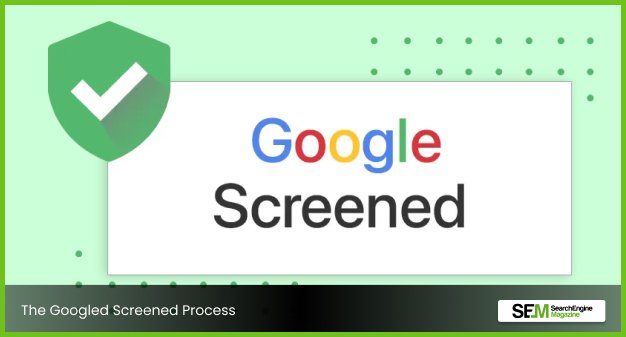 If you want to become Google screened, you will have to gather information for Google as well as Pinkerton. Pinkerton is a tool that Google uses to be finished with its background check.
To do so, you will be needing:
Owner's name.

Business name.

Languages spoken.

Year founded.

Total number of professionals.

Employee info. Budget.

Headshot of the owner.
If you take suggestions from an experienced digital marketing agency, it would really help in signing up for the process.
Wrapping It All Up
There you go with Google Screened | All You Need To Know About It. We have written everything you need to know about Google Screened. This article has been written in an easy language so that people of all kinds can read this when thinking of getting their business authorized by Google.
Leave a comment in the comment section and share your experience with us.
Read Also: