"We don't have a choice on whether we do social media.
The question is how well we do it."
– Erik Qualman, Author, and Motivational Speaker
Erik Qualman or 'Equalman' as he likes to be called has beautifully summed up the need for social media. It is no longer about just being there. Rather, it is about how aggressively you can excel at social media.
In this article, we look at addressing some important questions like-
Why is Social Media Marketing so important in 2019?
What are some of the best social media marketing tools on the market?
How can you properly leverage social media for your brand?
Do all tools perform all the functions that are required on social media?
What are the right tools that can help connect you to your target audience?
How to create cross-platform interaction and engagement with social media tools?
Social Media Marketing Tools- A Brief Introduction:
If you want to stand out from the crowd, you need to do something different. This is not just true of social media, but for any field or industry. Constant innovation and evolution are how you will be able to lead from the front.
If you truly want your brand to stand out in the digital landscape, social media tools are important. These tools help you go beyond the normal manual functionalities of social media.
In other words, social media marketing tools help you-
Create engaging and meaningful content.
Automate the process of posting by scheduling the same.
Create engagements with your audience in effective ways.
Help save critical time, which can be used productively elsewhere.
Free up manpower resources for other professional engagements.
Bring efficiency, regularity, and productivity to social media marketing.
Many people confuse 'social media marketing tools' with 'social media as a marketing tool'. Both these terms stand for different concepts and meanings altogether. There is absolutely no connection whatsoever between them.
Social media tools are actual software products created by companies to help brands. These software products help brands to perform the above-mentioned functions. On the other hand, social media as a marketing tool is a platform to boost your digital marketing presence.
Have you ever thought about how important it is to respond to audiences on social? Relationship Management as a feature is critical to being successful in social. However, the central question that needs to be asked is what Jeff Bullas raises, "is it making you more productive and efficient?"
Why is Social Media Marketing Tools Important?
With more than 3.5 billion people using social media, tools are becoming a necessity. Not all those 3.5 billions use the same platform at the same time. Tools help brands reach the right audiences on the right platforms.
As a brand, you need to know where your audiences are. You also need to communicate with them effectively. This means frequenting social platforms that your audiences frequent. This is not as easy as it sounds.
For example, a brand would be present on at least 7 to 8 different social platforms like-
Facebook
Instagram
Snapchat
Pinterest
Twitter
Linkedin
Flickr
YouTube
Being on top of your content game can be challenging and exhaust your resources. Think of the time you would need to dedicate to posting on all platforms. What happens if you are posting multiple times in a day? It can become a nightmare soon.
Social media tools help you avoid such catastrophes. With the right tools, posting multiple times during the day on as many platforms as possible is a breeze.
The marketing tools not only help for scheduling posts but also help in suggesting content ideas. Imagine if you have to create separate content for all platforms three or four times a day. Soon, you will run out of ideas. It is only human. With the help of some tools, you can help generate content for the most trending topics.
As early as 2012, there were more than 300 tools on the market. Not all of them have survived until 2019. However, the best ones are still doing what they do best- connect, create and engage the right audiences!
Top 10 Social Media Marketing Tools: The List
This list is a result of using most of these products over a five-year period. We have also discussed the lists with digital marketing experts, brands and digital entrepreneurs. Please note that the list is in no particular order or ranking.
The following list includes social media marketing tools that help schedule posts, create engaging content, and act as social listening tools.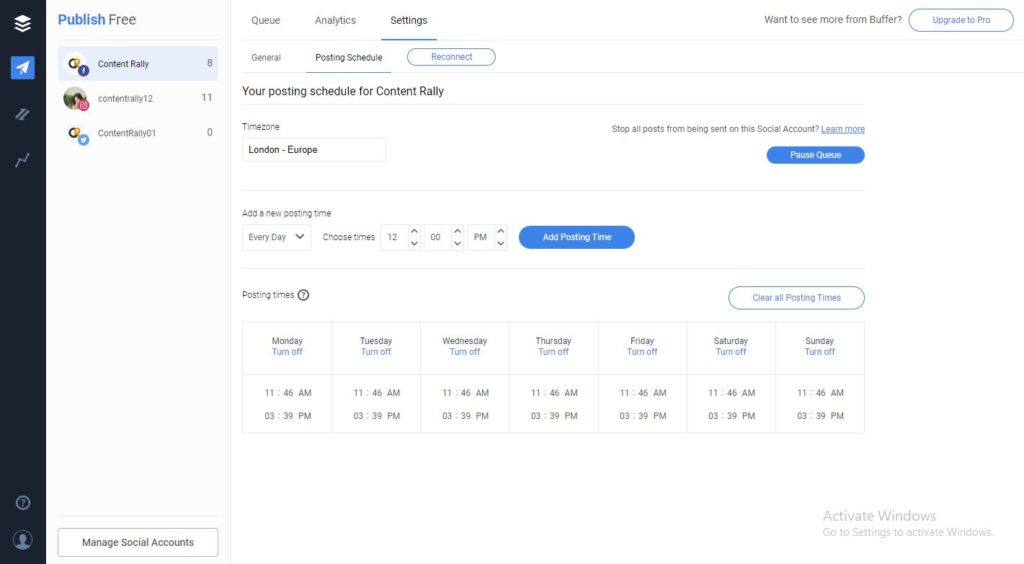 At last count, there were at least 50 great scheduling tools. However, Buffer sits at the top of the hierarchy. For many years, Buffer because of its functionality and offerings is the preferred choice of brands and digital experts.
With Buffer, you can schedule and coordinate multiple accounts, pages, and posts. The real gem is the Buffer Plug-In, which lets you buffer any page you come across. Imagine scheduling any great content you like on the web!
2. Venngage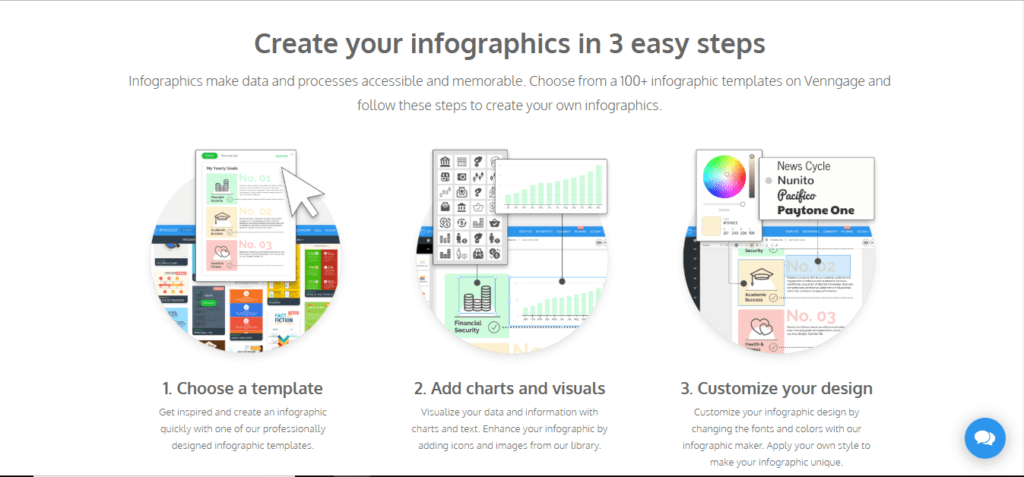 Creating engaging content on social media is a challenge. One particular type of content that does well on social media is 'Infographics'. Venngage is the best platform to create stunning and informative infographics for your brand's social media.
Venngage gives you the option of visual marketing. This is a step below video content, in terms of reach. However, it is better as a form of content to static images and image albums. There is no doubt that Infographics should always be a part of your social media content strategy.
3. Canva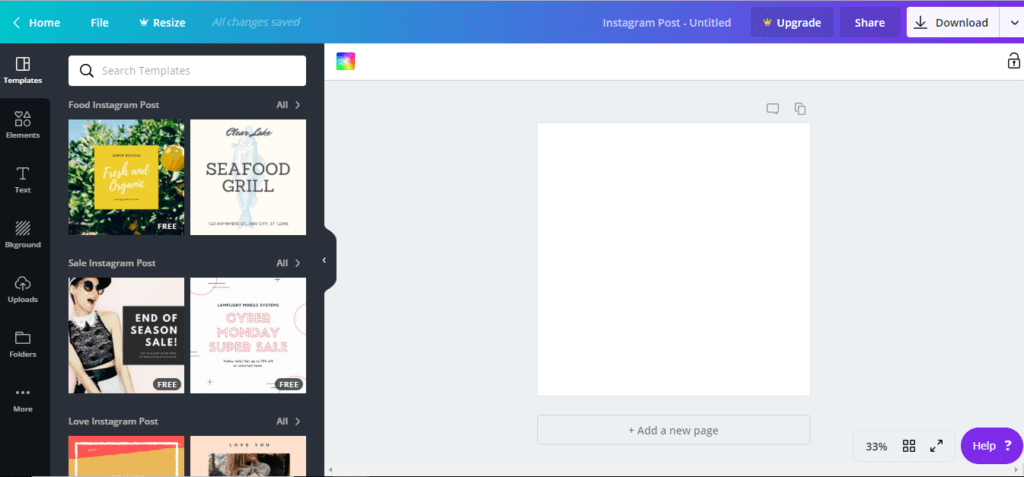 Many start-up entrepreneurs tell me that they need to maintain a social presence, but they cannot afford a designer or an agency. There are thousands, if not millions of people who face the same problem.
Canva allows such people a creative non-technical platform. From here, they can create the perfect image and video creatives without having a designer at their disposal. Canva is an image-creating tool that is easy, user-friendly and brilliantly good.
4. Buzzsumo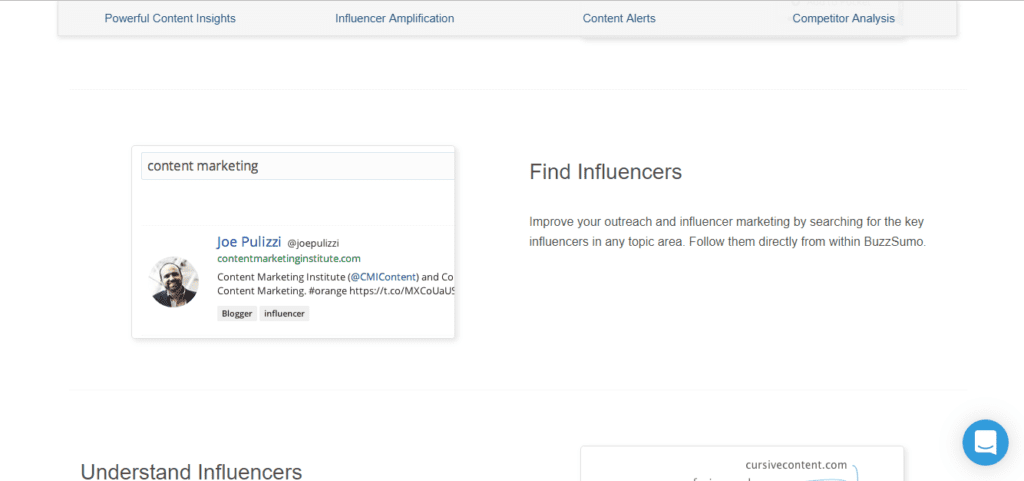 If you want to leverage social media, you will need a robust Influencer Strategy. Buzzsumo helps brings industry related influencers on one single platform. Apart from influencers, you can also check out which topics are trending. This helps you in creating the right kind of content for your audiences.
Buzzsumo falls within the research and listening social media marketing tools category. It also helps you do your keyword research. The main advantage of using Buzzsumo is the varied nature of functionalities on offer on the platform.
5. Hootsuite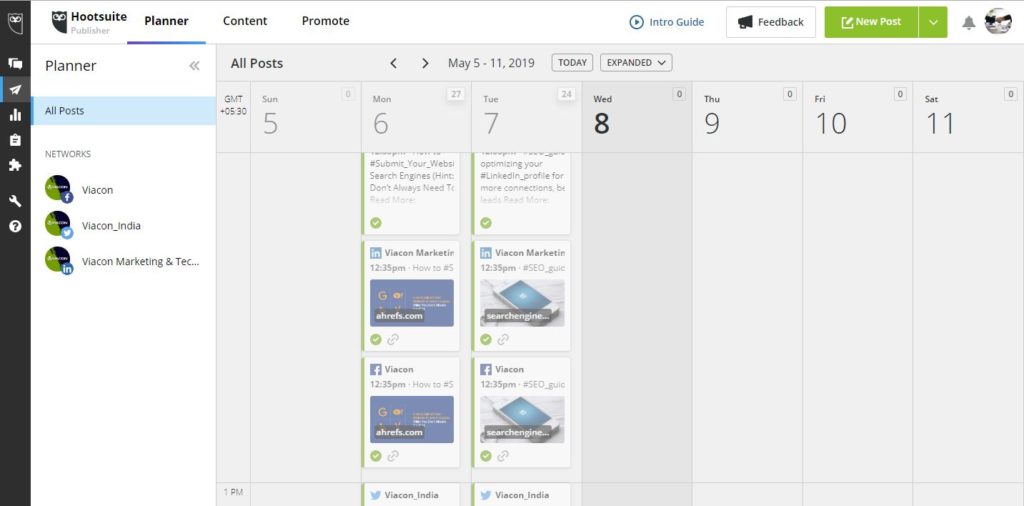 No list on social media marketing tools can be complete without the mention of Hootsuite. Hootsuite gives users many functionalities like posting, scheduling, tracking, etc. Personally, I like Hootsuite because of its message responses. It all happens with a single click.
You cannot imagine how effective your social media game will be when you will start replying to your audiences quickly. The page metrics will improve drastically. The audience relationships will become credible and long-lasting.
6. Sprinklr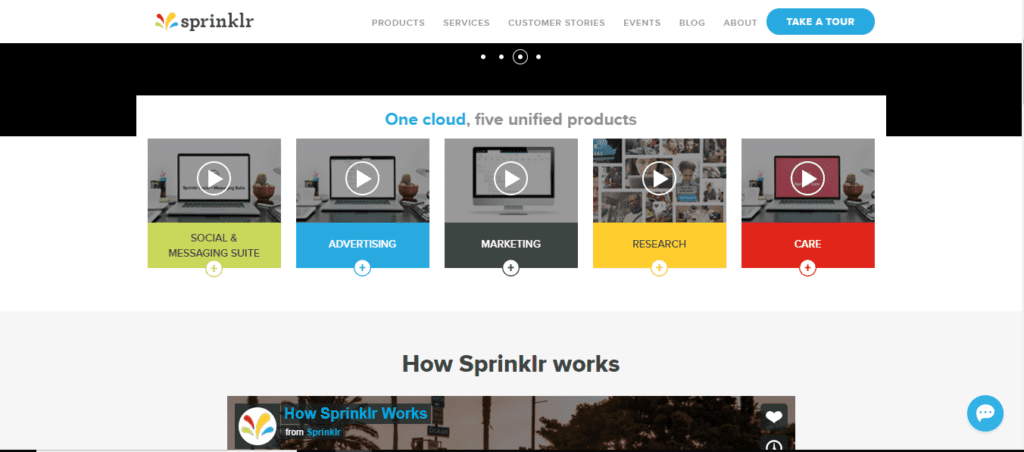 All these social media marketing tools excel at one or the other functions. The above are enjoyed by big brands and agencies who have the capital to invest. However, what if a start-up wants to do the same. Start-ups do not have the capital or money resources to buy these paid tools.
In such instances, tools like Sprinklr become very important as they help collate many functions and services under one head. From scheduling to advertising, from customer engagement to research, Sprinklr does it all.
7. Audiense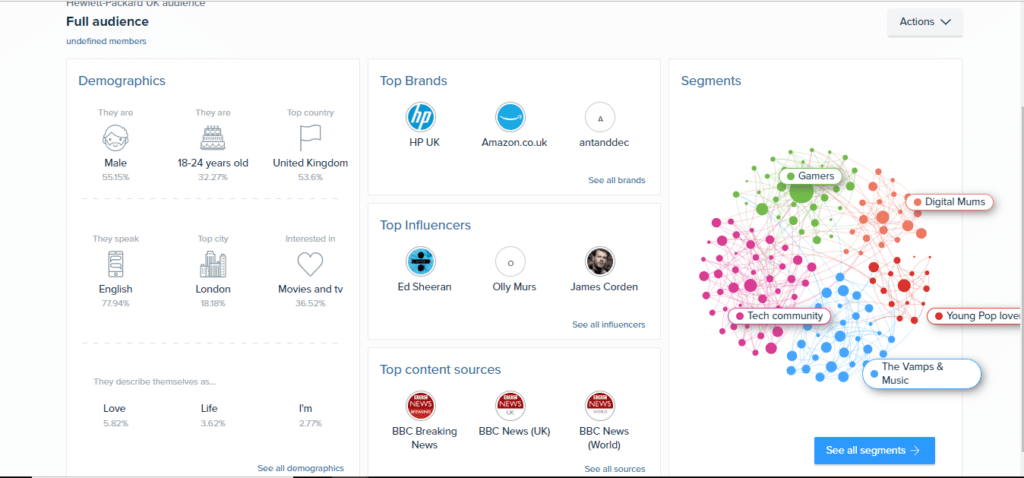 This is one of my personal favorites. For nerds who are obsessed with data, this is a real sci-fi inspired platform. You can analyze your demographics, the key influencers, the top sources and many more on Audiense.
Audiense is the perfect social media marketing tool if you believe in breaking down your data. This is a crucial research tool, and the top agencies use it while drafting social media strategies and campaigns.
8. Agora Pulse

Imagine a platform, which can help you not only schedule posts but also other content forms? We are talking about quizzes, contests, polls, promotions. Agora Pulse ranks high on the list of many experts based on its ease of use and affordability.
Leaving some of the free tools in this list, Agora Pulse is by far the most affordable social media marketing tool. Its simple, no-nonsense layout is easy and friendly to use. The perfect tool for the first time social media experts.
9. Oktopost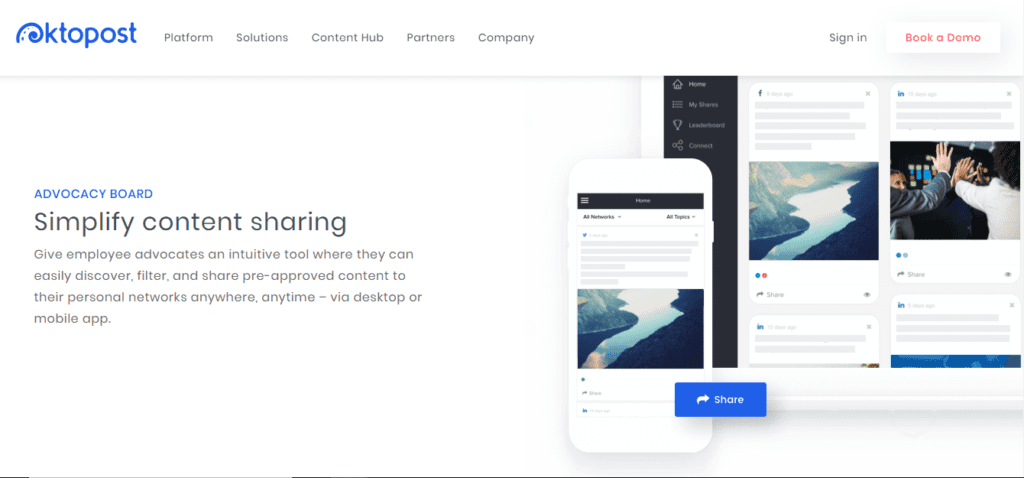 Oktopost finds a mention on this list for only one specific reason- it is the only social media marketing tool for B2B brands in the market! This is no mean feat. It serves to provide almost all the functions that a Hootsuite or a Buffer does.
Many people like Oktopost for various reasons. I personally like it for one specific feature. How to convert your brand employees into brand managers. Think of your brand's business page on social media. Think of similar content not on just one page, but on pages of your 100 employees.
Oktopost turns employees into brand managers and ambassadors. This helps increase organic reach, build credibility and reach newer audiences.
10. Sprout Social
Sprout Social, along with Hootsuite and Buffer have traditionally been the top 3 social media marketing tools. However, Sprout Social is a bit different from its compatriots. One of the best features of sprout social is meaningful relationships.
You might be thinking that this is quite antithetical to the whole discourse on digital fluidity. However, in this era of ambiguity, Sprout Social helps in creating endearing communities. The relationships that are deep, meaningful and fulfilling is one of the key offerings of Sprout Social as a social media marketing tool.
Do Social Media Marketing Tools make a Difference?
All the tools on the list have been proven to boost productivity and efficiency. Social media is a powerful animal that is only getting stronger and bigger by the day. No one had ever imagined social media to become second life to billions of people all over the world.
If you want to conduct business across continents, you do not need to be a steel tycoon anymore. Even if you are selling customized silver jewelry, you will have customers in all the seven continents (if penguins wear them in Antarctica).
By optimally harnessing the potential of social media through the tools, you will be able to boost your business. Nothing is impossible on social media if done right. Think of Kylie Jenner and her billion-dollar empire. It was born, raised and nurtured on Instagram and Snapchat.
If your product is great, your customer service is up to the mark, and your content is king- the sky is the limit! I have seen people of all ages and backgrounds ace it when it comes to social media. Individuals, who were broke at one point of time have become Influencers and spend holidays in Mikanos.
Social Media Marketing Tools: The Final Word
If you want to promote your brand on social, you will need social media marketing tools. Always remember, that there is an average way to do things, and then there is a better way. By taking recourse to social media marketing tools, you will be on the right track to success.
I am not saying that as soon as you start using them, you will become successful the next day. Rather, what I am saying is that the sustained use of these tools will help you master your social media game.
Do let me know what you think about the tools on the list. If you want to add some more tools, please feel free to mention it in the comments section. For further information on how the tools work, email me at [email protected]
Read Also: