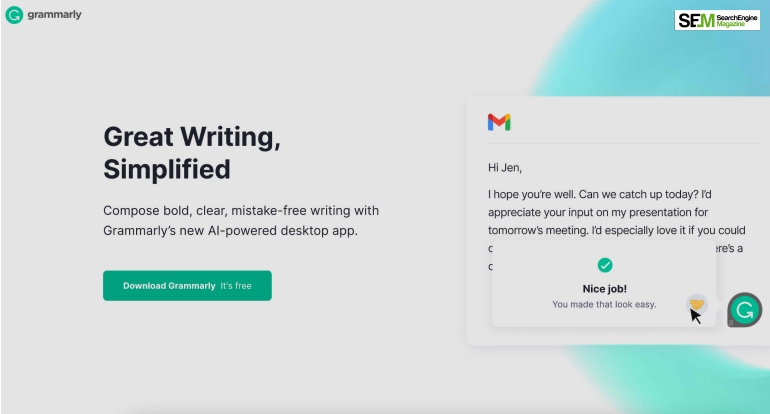 In simple words, Grammarly is a wonder for writers! It is hands down the most powerful tool to take your write-ups from nay to yay. This tool not only provides suggestions for better writing but also helps you make it unique.
When we talk about quality content for search engine optimization, spelling, grammar, and delivery are repeated time and after. These come even before all the on-page SEO factors, as it maintains the quality of your content.
Thus, the tool is not only impactful for your waiting but also practical for SEO. So, here is a brief discussion on this tool and its functionality in SEO.
What Is Grammarly Tool?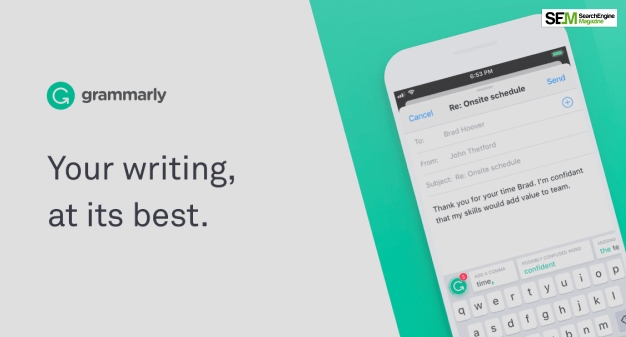 Grammarly is an artificial intelligence-based software created to check grammar, writing style, and many more. It has an interface to write or upload or copy-paste your content for spell check, punctuation, and grammar errors. It also allows you to improve your writing with impactful suggestions of suitable writing style.
You must have heard of people in the content writing industry saying how essay writing is unnecessary for content. Nevertheless, it is hard to find out ways to get rid of essay writing tendencies or lousy writing habits. In such cases, Grammarly can enhance your write-up and teach you how to let the awful writing style go.
Features Of Grammarly Free Version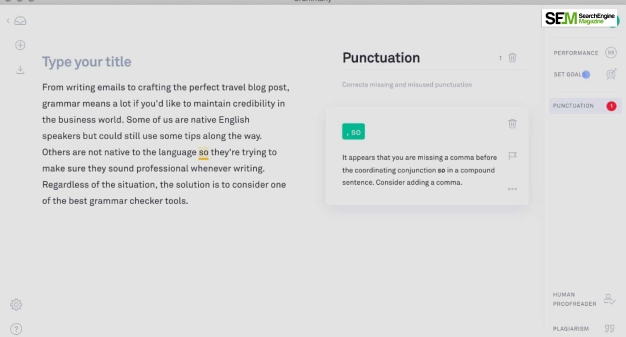 Grammarly helps you better your writing, even for free. The free version comes with many features present in the advanced version. Thus, you can check the basic spelling mistakes and grammar and punctuation errors if your piece is not too complex.
The features of the Grammarly free version are as follows:
Grammar
Spelling
punctuation
Subject-verb agreement
Conciseness
Features Of Grammarly Premium Version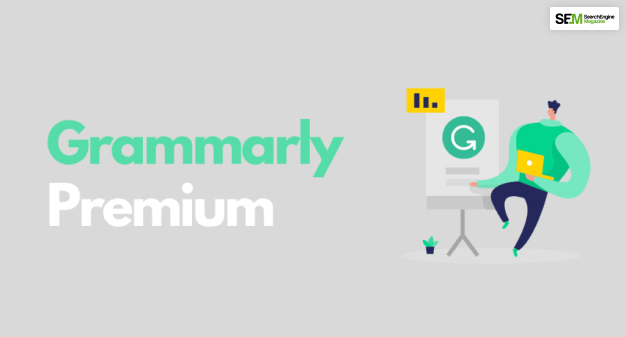 Apart from the basic spell check and vocab correction, Grammarly free version does not compile all necessary features. So, Grammarly, like other SEO tools such as Ubersuggest, ultimately helps you meet your SEO goals. However, if you opt for the premium version, which is a paid version, you can get the following additional features.
Features from the free version.
Advanced suggestions for writing style.
Clarity-centric sentence rewrites.
Synonym suggestion.
Suitable vocab suggestions for nouns and adjectives.
Level of formality.
Tonality.
Fluency.
plagiarism.
Alongside, the premium version of Grammarly check helps you set your goals of tonality, audience, delivery, domain, etc. Thus you will get more accurate suggestions for your targeted audience and delivery.
Features Of Grammarly Business Version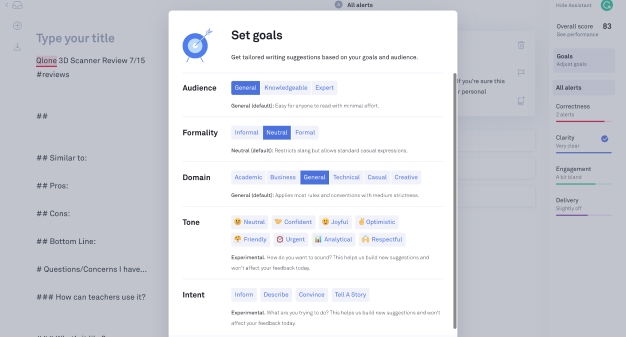 When you are in charge of a blog, website, or social media, you need much more than better writing styles and grammar. You must be spending a considerable time on your off-page SEO tools like Ahrefs free backlink checker. However, when it comes to on-page SEO, you need a single platform to get everything done.
In such cases, Grammarly Business comes handy once you are done with Grammarly login. It provides suggestions while writing for different types of content such as sales, blogging, teaching, etc. In addition, it prepares your write-ups for various purposes like a professional email, social media posts, etc.
How Does Grammarly Work For Better SEO?
Now that you know what Grammarly is and how it functions, we will find how it helps in SEO.
1. Correctness
The heart of search engine optimization is errorless content that engages the readers. Of course, no one will want to stick to content that has multiple spelling and grammatical mistakes. It automatically lowers the reading experience.
Therefore, Grammarly does the entire job of proofreading your content. You can also add its free extensions to platforms like word and chrome for correcting your write-ups from the get-go. If you are thinking about how to add Grammarly to word, just type "Grammarly extension for word/ chrome." There you have your free extension.
2. Readability
While Yoast SEO helps you better your readability score for your content, you can do it beforehand in Grammarly. First of all, its grammar checks help increase the readability. However, the essential part is its vocab or sentence suggestion for more clarity.
In addition, it checks your subject-verb agreement and suggests suitable words for any noun or adjectives. All these features help you significantly increase your content's readability score.
3. Delivery
Delivery is a vital part of making your content engaging and SEO friendly. Every type of content has a set type of audience, and we can understand that by their search intent. Therefore, search engine optimization is not only impressing the crawler but also your readers.
Grammarly check has a separate section to set your goals which you want to meet through your content. For example, it allows you to set your targeted audience if they are general, knowledgable, or experts.
It lets you choose your formality if it is neutral, casual, or formal. Also, you can select your domain and the type of intent you want to serve. All these lead your content to achieve the perfect delivery required for your audience.
4. Plagiarism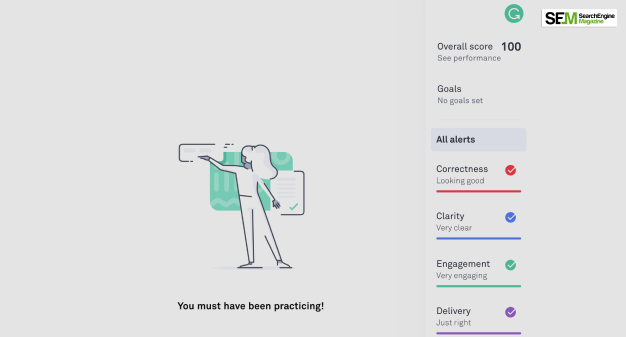 Plagiarism is another vital aspect to top the search engine result page as Google quickly detects and cancels copied content. Therefore, you must create content that is 100% unique by checking every bit of it to whether it has plagiarism.
Now, we all know Copyscape is the most optimum platform to check plagiarism. However, the harsh reality is that this tool is expensive. Therefore, Grammarly plagiarism checker can come in handy to quickly check plagiarism without spending extra money.
Frequently Asked Questions (FAQ):
1. What Are The Best Tools To Intensify Seo In Your Content?
Among the multiple SEO tools in the content industry, there are very few that can be best useful. Such tools can be Ahrefs, SEMRush, Moz, and Ubersuggest.
2. Does Google Have Any Tool To Optimize A Content For The Search Engine?
Google indeed has several tools that can guide you through search engine optimization. But one of its most potent tools is Google keyword planner, which provides you with a list of robust keywords to optimize your content.
3. Can I Do SEO For Free?
Do not feel left out if you cannot purchase any premium SEO tool. Tons of free tools like Google Analytics, Google webmaster, Moz free, etc., are available to analyze and improve SEO.
4. Does Grammarly Help In Off-page SEO?
Grammarly indeed helps improve your content by enhancing readability, grammar, spelling, and delivery. However, all of these improve the on-page SEO aspects and are not related to the technical SEO or off-page SEO.
Conclusion
So, these are all details on how Grammarly works and how it helps in SEO. It may seem not so significant and directly related to the optimization aspect. However, it manages the most fundamental factor of SEO which is correctness, delivery, and readability.
So, now that you know all the features, all you need to do is get the tool for you. Also, do not forget to share this information with others and keep reading our other content.
Read Also: